High Rate of Patients Readmitted to Hospital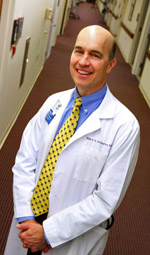 Dr. Mark Williams
When a patient is discharged from the hospital, just about the last thing he or she wants is to be back in again within the next month. But a new national study has found that's exactly what happens to one out of five Medicare patients, costing billions in health care and suffering for patients.
The study, coauthored by a researcher from the Northwestern University Feinberg School of Medicine, also found that more than half the patients rehospitalized within 30 days appear not to have seen a physician as an outpatient since they were released from the hospital.
"We were surprised that more than half of these patients weren't being seen by their primary care doctors before they went back into the hospital," said study coauthor Mark Williams, MD, chief of hospital medicine for Northwestern's Feinberg School and for Northwestern Memorial Hospital. "This represents a major disconnect between care in the hospital and outside it. We've got to do better."
The study was published in the New England Journal of Medicine April 2.