Astronaut/Alum Carries University Banner in Space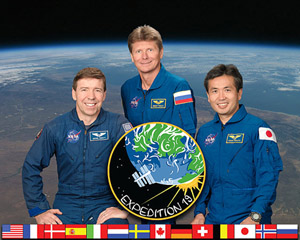 Cosmonaut Gennady Padalka, Expedition 19 commander (center), NASA astronaut Michael Barratt (left), and Japan Aerospace Exploration Agency astronaut Koichi Wakata
Astronaut Michael Barratt, who earned his MD from Northwestern University's Feinberg School of Medicine, blasted off to the International Space Station today (March 26) with a white and purple banner from Northwestern that he asked to bring along in his suitcase.
Barratt will bring the Northwestern banner, which he requested from the University to "honor my past involvement in your school." He plans to unfurl it in the space station, photograph it in space, and then return it to the University after the flight.
Barratt received his MD from the Feinberg School in 1985 and completed a three-year residency in internal medicine in 1988 and chief residency year in 1989.
The space mission by the crew of Expedition 19 will begin its journey from the Baikonur Cosmodrome in Kazakhstan, launching a mission that will ultimately inaugurate the expansion of the station to six crew members. They will be on board the Russian Soyuz TMA-14 spacecraft.
In 2004, Dr. Barratt returned to Northwestern to conduct a Grand Rounds teaching conference on the physiological changes that occur in space flight such as astronauts developing kidney stones because they get very dehydrated and on how to deal with such health emergencies as appendicitis in space.
"He had to help care for the astronauts from the ground," noted Diane Wayne, MD, associate professor of medicine and director of the internal medicine residency training program at the Feinberg School.
"He is a wonderful role model for physicians trying to push the knowledge of medicine into new areas," Dr. Wayne said. "He pursued his dream of space flight and being a physician at the same time."
"People here remember him as being a very sincere, compassionate, skilled, and hard working physician," Dr. Wayne added. "It's a testament to his education and to the faculty at Northwestern that he wants to carry our banner into space."
~Marla Paul