NU Faculty Shine in Journal's Simulation Issue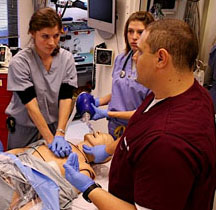 Dr. Vozenilek (right) instructs medical students using a patient simulator.
Twelve new articles authored by Northwestern faculty members describe the state of the art for simulation-based medical education. The November issue of Academic Emergency Medicine is dedicated to the topic of science of simulation in healthcare. This special simulation issue contains twelve original contributions to the medical literature authored or coauthored by Feinberg School of Medicine faculty members John Vozenilek, MD; Kevin Weiss, MD; William McGaghie, PhD; Ernest Wang; MD, Walter Eppich, MD; Mark Adler, MD; Rahul Khare, MD; and Morris Kharasch, MD.
The Feinberg School holds a national reputation for expertise and innovation in simulation-based medical education. Simulators and immersive learning tools such as virtual reality are being increasingly used in medical education, as pressures to achieve new levels of competency in medical school graduates increase. "Simulation gives the learner a safe environment to experience patient care without risk to the patient," states Dr. Vozenilek, director of Simulation Technology and Immersive Learning at the Feinberg School. "These devices allow for feedback on patient care events that shape not only the medical knowledge competency measured on standardized tests, but also skills in communications, professionalism, and managing the health care system. We've used these devices to simulate patient care from the doctor's office to a mass casualty event in the field," states Dr. Vozenilek.
The Academic Emergency Medicine Journal (AEMJ) and the Agency for Healthcare Research and Quality hosted a national simulation conference in May in Washington D.C. The conference was co-led by Dr. Vozenilek and his colleague Dr. James Gordon of Harvard Medical School. A record 400 attendees including members from specialty boards, simulation and assessment experts, and government met in Washington to discuss ways simulation could be used to define and develop expertise in medical care. The November issue of the journal highlights those proceedings and original contributions to the simulation education literature.
Highlights of the proceedings include an address by the president and CEO of the American Board of Medical Specialties, Dr. Weiss, professor of medicine at the Feinberg School. Dr. Weiss remarks, "There is a rapidly growing interest among the boards in using simulation, so it would be reasonable to expect that the use of simulation in physician initial training and lifelong learning will increase as the science of simulation evolves." Many board certifications are currently administered by written examinations.
The 12 articles by Feinberg School faculty members are among the 32 articles of this special issue and include content on the state-of–the-art teamwork, and debriefing techniques. Drs. Wang and Vozenilek also authored two of the top 10 most downloaded articles from AEMJ in 2008.
The Feinberg School currently uses several facilities for clinical simulation, providing essential experiences and patient safety training for students, residents, and physicians in practice. These include the Feinberg School's Clinical Education Center and Weinberg Medical Informatics Training Center, the Northwestern Center for Advanced Surgical Education, the Clinical Simulation Center, and Children's Memorial Medical Center's KidSTAR program. An additional state-of-the-art, high-fidelity simulation facility will be completed next year.