Student Named Fogarty Research Scholar by NIH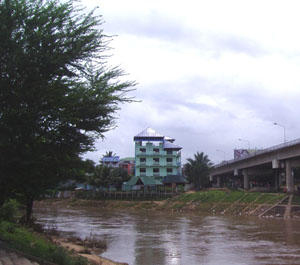 Fourth-year Feinberg student Brock Daniels sent this photo of the view of Burma (Myamnar) across the Moei River from the Thai town of Mae Sot. The river marks the border between the two countries.
Under the best of circumstances, clinical researchers face daily challenges—from intellectual to technical. Mix in foreign lands, languages, and governing bodies and the research endeavor becomes a tad more complicated as Brock F. Daniels, a fourth-year Feinberg student, has quickly discovered as a National Institutes of Health/Fogarty International Clinical Research Scholar.
"Conducting research outside the United States requires a bit more creativity and a great deal more flexibility and patience," says Daniels, who left this summer for Thailand where he is spending his fellowship year at Chiang Mai University, in partnership with Johns Hopkins University Fogarty AIDS International Training & Research Program. "For example, the surveyor training I am helping conduct on the Burmese border was delayed a week. The surveyors couldn't make it to the border because of security and transportation issues. Obstacles like these are common, and good researchers, who work in resource-limited settings, know how to adapt to these situations. This is exactly the kind of training I hope to gain during my fellowship."
This academic year Daniels joined a select group of 33 U.S. fellows and 33 "twin" international scholars who are experiencing clinical research training in developing countries around the world. Keenly interested in HIV/AIDS research, Daniels has an expert mentor in Chris Beyrer, MD, a faculty member at Hopkins known for his work in HIV/AIDS in Asia and Africa as well as health and human rights in Burma. The Fogarty fellowship will build on Daniels' growing human immunodeficiency virus knowledge base. In fact, two summers ago Daniels traveled to southern Africa, where he and other Northwestern students from the medical, business, and engineering schools assessed new technologies in HIV diagnostics.
"This area of research fascinates me because of the scale of the pandemic—which is not just an African problem—as well as HIV's widespread implications in the social, political, economic, and ethical aspects of life," says Daniels, who holds an MPH degree in epidemiology and bioethics from Boston University. "Everyone, whether they know it or not, knows or has met someone with HIV. A profound and 100 percent preventable disease, it is one that I would like to see eradicated."
As a Fogarty scholar abroad, Daniels is currently involved in several community-based trials targeted at improving HIV prevention, testing, or treatment. One of the projects, for example, examines the impact of community-organized structural changes on reducing the prevalence of methamphetamine use and sexually transmitted diseases, according to Daniels.
While Daniels hopes to incorporate HIV research throughout his professional career, his clinical interests lean toward emergency medicine. He says, "Ideally I see my research and academic career focused on access to health care, with a special interest in programs devoted to improving access to HIV prevention, testing, and treatment."
Like many of today's medical students, Daniels believes his global experience can only help him as a future physician to better appreciate the larger context in which he will practice and the "interconnectedness of our collective health." He already plans to give some informal talks about his experience when he returns to Northwestern next year to inspire his fellow students and faculty members about international health.
"While I may be the first Feinberg School student to receive this award," says Daniels, "I hope by sharing my experience, I won't be the last."