A Prestigious Title Provides an Opportunity to Lead
The investiture of William A. Muller, MD, PhD, as the Magerstadt Professor of Pathology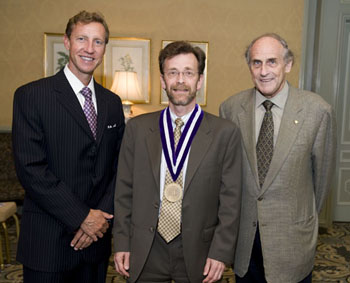 (L to R) Drs. Jameson, Muller, and Steinman
"A superb combination of a positive attitude coupled with a myriad of talents." Ralph M. Steinman, MD, Henry G. Kunkel Professor and senior physician at Rockefeller University, was complimentary and insightful when describing his former student, William A. Muller, MD, PhD, at Dr. Muller's investiture as the Magerstadt Professor of Pathology at Northwestern University. "I know for a fact that Bill is delighted to head a prestigious Department of Pathology, because he really prioritizes the chance to work together with colleagues so that the sum is greater than the parts," he said.
At the investiture ceremony, held at the Four Seasons Hotel on September 17, Dr. Steinman guided the audience through a tour of Dr. Muller's professional history, from MD/PhD student, to professor at Weill Medical College, to his current position as Magerstadt Professor of Pathology and chair of the Department of Pathology at Northwestern University Feinberg School of Medicine.
Speaking to an audience of family, friends, colleagues, and school leadership, including ceremony emcee, J. Larry Jameson, Vice President for Medical Affairs and Lewis Landsberg Dean, Dr. Muller conveyed his excitement. "As chair, I work with graduate students, medical students, residents, postdoctoral fellows, clinical fellows, clinical faculty, research faculty, and administrators. I have the opportunity to impart on them the excitement for science and the pursuit of excellence that I equate with a great department—a department where everyone knows and respects what their fellow department members do, where there are easy collaborations between bench researchers and clinical faculty, and where everyone recognizes that he or she is a valuable part of the team." He went on to thank his mentors, including Dr. Steinman, for instilling in him this enthusiasm and appreciation for the potential of collaboration.
As Magerstadt Professor of Pathology, Dr. Muller has been presented with the highest honor a medical school can bestow upon its faculty members—an endowed professorship. Endowed professorships promise limitless benefits, both for the faculty who carry these prestigious titles, as well as the many individuals whose lives are enriched by the education and research supported by the endowment. The Magerstadt Professorship of Pathology was established in 2004, the result of a generous estate gift bequeathed to Northwestern University by Madeline Magerstadt in 1969. Her bequest has supported and honored the efforts of numerous faculty members over the years, via multiple professorships.
Dr. Muller received his artium baccalaureatus degree summa cum laude from Harvard University in 1975. He earned his doctorate of philosophy from Rockefeller University in 1981, and his medical degree in 1982 from Cornell University Medical College. His research focuses on the cellular and molecular basis of inflammation and, in particular, the interactions of leukocytes and endothelial cells in the inflammatory response.