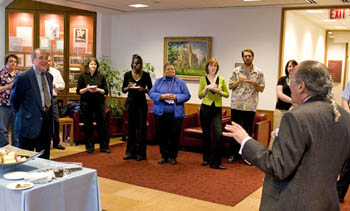 Dr. Keith addresses his well wishers during the reception in Dollie's Corner at the Galter Library.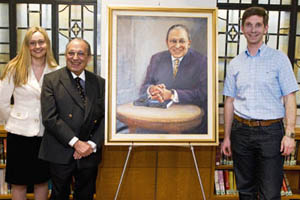 Dr. Jaroslaw Oleszczuk (right) and his wife, Aga, join Dr. Keith with the portrait commissioned by Dr. Oleszczuk's father, who is also a physician.
Dr. Louis Keith Donates Portrait to Galter Library
Renowned multiple-birth expert Louis G. Keith, MD, PhD, has influenced generations of physicians around the world. Professor emeritus of obstetrics and gynecology at the Feinberg School, Dr. Keith served as director of undergraduate education for his department for 29 years, with more than 5,000 medical students completing their clerkships under his direction. At a reception held in Dollie's Corner of the Galter Health Sciences Library, a former student, Jaroslaw Oleszczuk, MD, from the Medical University of Lublin, Poland, was on hand to see the unveiling of a portrait of Dr. Keith. Dr. Oleszczuk, whose father commissioned the portrait, took an elective clerkship with Dr. Keith as a medical student and has collaborated on research with him ever since.
The story of the portrait began with the birth of conjoined twins in May 1999 at the hospital in Lublin where Dr. Oleszczuk's father was professor and head of obstetrics and gynecology. "Nobody wanted to care for these kids," Dr. Oleszczuk recalled. "It was quite traumatic for the parents, obviously, and for all the doctors, because my colleagues and I had never seen Siamese twins in our lives. The first thing I did was call Louis and ask, 'What should we do?'"
Dr. Keith advised him to call the American College of Surgeons for a recommendation because it was now a surgical case and not a gynecologic one. That led to surgery at the Children's Hospital of Philadelphia to separate Wiktoria and Weronika Palen. Because they came from a poor family, said Dr. Oleszczuk, "It took 12 months of Louis' involvement to convince Children's Hospital to do it for free." The surgery was successful and the twins recently celebrated their ninth birthdays.
For his contributions to this happy outcome, Dr. Keith received an honorary doctorate from the Medical University of Lublin and a Medal of Honor from the Polish government, followed by Dr. Oleszczuk's father engaging the services of a Lublin painter for a portrait of Dr. Keith.
Sherman Elias, MD, John J. Sciarra Professor and chair of obstetrics and gynecology at Northwestern, said, "Louis is known wherever I go because I meet people he's influenced in medicine everywhere. His outreach is truly global, but it was done individual by individual, caring about each medical and graduate student as they came through here. The greatest legacy anyone can have in an academic career is the appreciation and knowledge that what they have done will be carried on for future generations. Many people are grateful to you."
Also offering remarks were Ron Sims, the Galter Library's archivist, who put on display 17 books for which Dr. Keith served as editor, author, or both; and John J. Sciarra, MD, PhD, professor and former chair of obstetrics and gynecology at the Feinberg School. At the conclusion of the reception, the portrait was unveiled by Dr. Keith's current research student, third-year medical student Sara Patrawala.
The April 24 reception also happened to be Dr. Keith's 73rd birthday. "It's really 146 because I have been fortunate to celebrate birthdays repeatedly with my own twin brother," said Dr. Keith. "This is a very special birthday, so thank you."