Northwestern Postdoctoral Fellow's Work Becomes Cover Story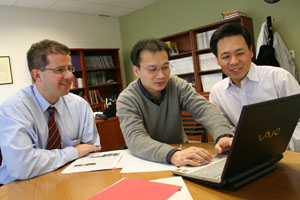 Dr. Xin Liu (center) works closely with his fellowship advisers, Drs. James Carr (left) and Debiao Li, investigating clinical applications of cardiovascular MR imaging techniques.
When graduate student Xin Liu, MD, PhD, submitted a manuscript detailing the benefits of the targeted use of magnetic resonance (MR) angiography in the diagnosis of heart disease to the American Journal of Roentgenology (AJR), he was fairly confident of his research findings. Little did he know that his first scientific paper written in English would not only be accepted by this highly respected peer-reviewed journal but also appear on its December 2007 front cover.
"I was not surprised at the results of the study, but I was surprised and thrilled that the journal selected it for the cover page," says Dr. Liu, a research associate in the Department of Radiology. "I give many thanks to every author listed on the article, especially my advisers James Carr and Debiao Li!"
Chance encounters at major meetings with radiology faculty members Drs. Carr and Li, director of cardiovascular MR imaging research at Northwestern, prompted Dr. Liu to come to Northwestern about a year and a half ago. The two recruited the veteran radiologist, a native of China, to work with the Feinberg School's well-regarded multidisciplinary cardiovascular imaging program. Advancing the development and clinical application of novel cardiovascular MR imaging techniques, Dr. Liu has continued research at the medical school that he started at Beijing's Chinese PLA Postgraduate Medical School where he received a PhD degree in August 2006.
Dr. Liu's research focuses on noninvasive coronary artery angiography using MR imaging for the more refined detection of coronary artery stenosis, or narrowing of the arteries in the heart, as compared with computed tomography (CT) angiography. Offering higher spatial resolution and faster imaging times than current MR techniques, CT angiography is routinely used for coronary artery imaging to identify significant coronary artery disease. However, unlike MR imaging, CT angiography exposes patients to high doses of radiation and requires the injection of nephrotoxic contrast agents, making it an invasive procedure with some risk of complications. In addition, severe coronary artery calcification can limit and make difficult the accurate interpretation of CT angiography.
In the article that appeared in the December issue of AJR, Dr. Liu and his colleagues found that coronary MR angiography provides better visualization of coronary artery lumen and improved diagnostic performance over CT angiography for patients with moderate and severe coronary calcifications. Oftentimes "blind spots" on coronary CT angiography due to blooming artifacts—imaging distortions—from the high-density calcifications challenge clinicians in making their diagnoses. In the near future, MR angiography could prove valuable as a noninvasive alternative for the detection of coronary stenosis in patients with high calcium scores—an indicator of heart disease risk.
"Initially coronary MR angiography did not reliably provide good diagnostic data, but the technique has gotten better and better," explains Dr. Liu. "Now with MR imaging, we can get beyond the covering of calcified coronary atherosclerotic lesions to see inside the coronary lumen."
Dr. Liu presented his findings at the annual meeting of the Radiological Society of North America held in Chicago in November.
Posted December 27, 2007.