A Harrowing Journey to Medical School

Emmanuel Bessay, PhD, typifies—and then some—the nontraditional Northwestern medical student. Like the 30 other members of the Class of 2010 who didn't go directly from their undergraduate alma maters to the Feinberg School of Medicine, this 36-year-old West African native took a different and somewhat harrowing route to medical school. His path began with surviving in a country embroiled in a brutal civil war and finding a way to pursue his dreams.
Six weeks after starting classes at the University of Liberia in Monrovia, Bessay had to put his education on hold. Rebel forces had entered the coastal city of Monrovia, the nation's capitol, which forced the closure of the university in March 1990. As fighting intensified between the Liberian military and the National Patriotic Front of Liberia (NPFL), a group intent on overthrowing the government, Bessay and others began fleeing the city. Bessay set out on foot to his hometown of Buchanan, a port city some 90 miles south of Monrovia. Upon his arrival he learned that rebels had fatally shot his grandfather, and his elderly grandmother had died from limited-to-nonexistent access to medical care—all of the hospitals in the area were shuttered. Yet his parents and 10 siblings were alive and as well as circumstances permitted.
Life in rebel-occupied Buchanan had its ups and downs—to say the least—for Bessay. Initially fueled by ethnic tensions, the civil war turned to greed, revenge, and then an all out assault on the general population, according to Dr. Bessay. "On July 19, 1990, I had my first encounter with the rebels and was almost killed," he recalls. "One rebel had a knife to my throat. He thought that I was from a certain ethnic group. It wasn't until I started speaking our [ethnic group]language that he let me and my cousin go free." Although English is the official language of Liberia, several dialects exists. Dr. Bessay also speaks Bassa.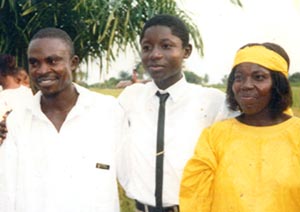 Despite the turmoil Bessay (at right, as a young man with his parents) continued to pursue his interest in medicine. He had wanted to become a physician ever since the death of his infant brother, Sojo, who succumbed to measles in 1981. Although a youngster at the time, he wondered if his sibling could have been saved. Bessay began volunteering at the Holy Family Clinic, a private medical facility operated by a Sri Lankan physician. "Dr. Sydney Jayasuriya loomed large as my role model," shares Dr. Bessay. "He was one of the few physicians who remained in the area. He stayed as long as he could before it became dangerous for him and his family."
For close to three years Bessay worked at the clinic—dispensing drugs, tending to injuries from abrasions to bullet and shrapnel wounds, and observing surgical procedures—before he, once again, needed to flee. By March 1993 advancing peacekeepers and other factions fighting the NPFL had made Buchanan inhospitable due to soldiers who were pillaging, torturing, and murdering young men, according to Bessay.
Living in the rural interior of Liberia with relatives, Bessay spent the next nine months "caring" for the locals. "People knew that I had worked in a medical clinic, so they began coming to me with their health problems," he recalls. "I tried to discourage them by telling them I had only been training with a clinic physician. It was frustrating. They needed help but I couldn't help them."
Eventually peacekeeping troops prevailed in restoring some semblance of order. In 1994 Bessay moved back to Monrovia and started working for Baltimore-based Catholic Relief Services (CRS) as a warehouse manager. Overseeing the distribution of relief supplies to the Liberian people, Bessay knew that his situation was a temporary one. He began thinking about obtaining an education in a place where the infrastructure was intact. Although he had never stepped foot outside of Liberia, Bessay set his sights on attending a U.S. university—preferably one that could award him an international student scholarship as he had no funds of his own. He then intended to earn an MD degree, complete his medical training, and eventually return home to help rebuild Liberia.
Serendipity and "six degrees of separation" played key roles in Bessay's journey to the United States. Armed with an almanac that included the names and addresses of U.S. colleges, he embarked on a rather unscientific application process. "I would read a name aloud," says Dr. Bessay, "and if it sounded and felt good, I would put it on my list." Additionally, he relied on using the Baltimore address of CRS as his return address; the postal service in war-torn Liberia worked sporadically if at all. His friend Sebastian Jayasuriya—the son of his mentor—worked at the nonprofit organization's office in Monrovia. Sebastian would receive the mail from the United States and then hand it over to Bessay.
Several universities accepted the ambitious Liberian, but none had any scholarships to fund his education. The University of the South in Sewanee, Tennessee, came close to offering financial support, but Bessay lost out to other needy applicants. "It was a big disappointment, but I didn't give up," he says. "I continued with my applications figuring I would lose nothing for trying."
Unbeknownst to Bessay, his applicant file ended up on the desk of Elwood Dunn, PhD, professor of political science at the University of the South and, coincidentally, a native of Liberia. Dr. Dunn noticed Bessay's unusual return address and remembered that his friend Jeanette Carter, PhD, a social scientist and faculty member at the University of Liberia had once worked with CRS. Dr. Carter, in turn, knew Bessay but was unaware of his college plans. When Dr. Carter, an American, made her annual visit to the States, she looked up Dr. Dunn.
"During their friendly chat, Dr. Dunn asked Dr. Carter if she knew me—that was the critical link," explains Dr. Bessay. "Of course, she said yes. He told her to tell me to reapply to the University of the South. And then Dr. Dunn made the move to help me obtain an international student scholarship."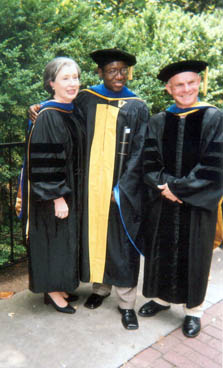 Ten years after starting college, Bessay finally earned a bachelor's degree in chemistry and biology in 2000. He went on to receive a PhD degree in molecular physiology and biophysics from Vanderbilt University (shown at left with his mentors) before coming to Northwestern last fall. This summer he plans to go home to Liberia for the first time in 11 years. Not only will he see his family and friends, but he also hopes to give university students a crash course in biochemistry while he is there. Additionally, he intends to lay the ground work for building and opening a rural medical clinic near Buchanan that could rely on the services of Liberian health care professionals. He would initially get the clinic off the ground with nurses and other health care staff and return home after his medical school and residency training to run the program full time.
"Public hospitals are found in major cities," explains Dr. Bessay. "However, many of them are operated by international groups which eventually leave with their staffs." During the civil war some 700,000 Liberians sought safety in other countries, effectively draining Liberia of its human resources—many of them skilled workers who still have not returned.
Programs at the Feinberg School that serve the local and world communities have inspired Bessay. He hopes to borrow models of international aid such as Northwestern University Alliance for International Development to give back to his country and perhaps, one day, encourage his U.S. classmates and colleagues to volunteer in Liberia.
"Liberia is in dire straits. Lots of Liberians have left," says Dr. Bessay. "I could stay here in the United States and likely do well, but as my father says, 'The best person to clean your house is yourself.'"
Posted June 21, 2007