Student to Help Incarcerated Women Relieve Stress through Yoga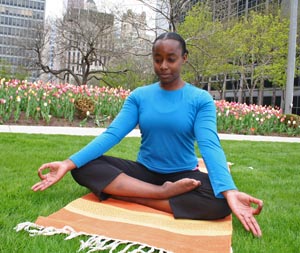 Practicing yoga has brought medical student Adrienne R. Hampton so much physical and spiritual joy that she figures others—particularly the medically underserved—could benefit from a little "downward-facing dog" in their lives. One of 30 health profession students recently selected for the 2007–08 Chicago Area Schweitzer Fellows Program, Hampton will soon embark on a community yoga project focused on providing incarcerated women with much-needed coping skills.
"In yoga there is a call to service much like in medicine. The practice invites you to cultivate and manifest somehow in your daily activities the good feelings that you derive from yoga practice," explains Hampton, a first-year student at the Feinberg School. "I hope to share the positive experiences that I have gained from practicing yoga and offer it as stress management tool."
The Schweitzer Fellows Program—named in honor of Nobel Peace laureate Dr. Albert Schweitzer—encourages its participants to develop innovative projects to improve health and access to health care for needy populations such as the uninsured, immigrants, the homeless, minorities, and the working poor. This year's fellows represent 18 different university health-related programs ranging from medicine and nursing to art therapy and acupuncture.
While the details of Hampton's Schweitzer project are still in the works, she plans to start teaching yoga twice a week this coming fall. She hopes to partner with Chicago-area correctional facilities and offer prenatal yoga to women caught up in the criminal justice system. "Many of these women have been negatively affected by addictive behaviors and/or abusive relationships," says Hampton, 24, who served as an AmeriCorps—a national service organization—volunteer and worked as an HIV counselor in the nation's capital for a year prior to coming to Northwestern. "Stress is a big part of their lives."
A practitioner of ashtanga yoga for the past five years, Hampton will undergo a vigorous yoga teacher training course this summer in California. Once certified by the Yoga Alliance, a national yoga registry, Hampton will have the credentials to help people learn how to enhance the flexibility of their bodies as well as their minds. A clinical interest in obstetrics and gynecology and women's health, in general, is motivating Hampton to pursue additional instruction in prenatal yoga techniques. However, finding a place to learn the special yoga modifications required to keep expectant moms safe and sound has been a bit of a challenge, according to Hampton.
"I've been calling around to area yoga studios and asking if I could take some prenatal yoga classes without being pregnant," shares Hampton. "Some studios have been fine with the idea. Others have said absolutely not. They feel it would be intrusive and affect the 'energy' of the class for me to participate and not be pregnant. If worse comes to worse, I can always read books and watch videos about prenatal yoga."
Given the philosophy of yoga practice, it seems that a little flexibility will definitely come in handy during Hampton's Schweitzer fellowship year.