Emergency Medicine Experience Serves Faculty Member Well in Iraq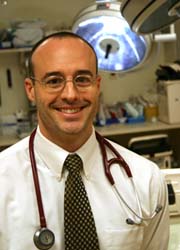 Whenever Martin J. Lucenti, MD, PhD, would retire to his hut near the helicopter pad to sleep, he knew that the sound of whirling blades could soon awaken him and have him back in the marbled hallways of the hospital Saddam Hussein built. Director of clinical operations for the Feinberg School of Medicine's Department of Emergency Medicine, this assistant professor of emergency medicine returned in August from a tour of duty in Iraq as a member of the Vermont National Guard.
Deployed to Iraq three times since completing his chief residency at Harvard and joining Northwestern in 2003, Dr. Lucenti most recently spent four months working in the emergency room of the U.S. Army's 10th Combat Support Hospital in Baghdad. The military facility—near Hussein's former palace and originally built to serve VIPs of his former regime—is one of the busiest hospitals in Iraq. It features a 10-bed emergency department and some 80–100 inpatient beds, according to Dr. Lucenti.
"I was initially supposed to serve 30 days in Iraq last April," says Dr. Lucenti, who was assigned to a military post in the southern portion of the country, "but when the military realized that I was an emergency medicine physician from a level one trauma center, they extended my duty and sent me to Baghdad where they had a shortage of personnel in the ER."
Appearing in the Cable News Network documentary "Combat Hospital" that aired this fall, Dr. Lucenti cared for a variety of critical care patients ranging from American soldiers with "big blast injuries" to Iraqi children caught in the crossfire. "In a level one trauma center in the states, you may see a patient with a gunshot wound, injuries caused by motor vehicle accidents, or burns," he says. "The difference in this hospital was that most of the traumas were major and usually involved all of these elements."
On a typical day in the 10th Combat Support Hospital's ER located in the Green Zone (the heavily guarded area of Baghdad where U.S. occupation authorities live and work) , the medical team might treat up to 50 patients with three trauma surgeons available. "At Northwestern Memorial [Hospital, NMH] we see as many as 230 patients a day and have one trauma surgeon on call," shares Dr. Lucenti whose work at NMH entails studying efficiency in the emergency department. He holds a PhD degree in industrial engineering with an emphasis on computer-supported cooperative work.
The only National Guard member assigned to the hospital this past summer, Dr. Lucenti worked alongside a medical team of active-duty physicians, nurses, and medics. He applauds the quality of trauma care he witnessed. "It was exceptional. These people do it all day and every day," he explained. "While the provision of care in the emergency room was relatively standard, some differences could be found. For example, we were much more aggressive with blood resuscitation, and we were our own blood bank for whole blood. You might send up a patient to the operating room and then go donate blood."
While a seasoned emergency medicine professional, Dr. Lucenti admits that passing by telephones in the hospital and overhearing bits and pieces of conversation can be difficult. Soldiers calling home were transformed from patients to people with families concerned about their welfare, according to Dr. Lucenti. Despite being desensitized to the horrible traumas that came through the door by virtue of his medical training, he shares, "What you see is still miserable."
However, Dr. Lucenti has no reservations about fulfilling his duty to the National Guard and country and relies on his Northwestern medical practice partners to cover for him during his deployments. "My going back is subject to the needs of the Army," says Dr. Lucenti, whose father recently retired from the Vermont National Guard as a general. "It really is not a question of if but when."