October 31, 2006

Contact: Marla Paul at 312/503-8928 or at
marla-paul@northwestern.edu
Landmark Study to Assess Hispanic Risk Factors, Health Needs in Chicago Area
CHICAGO—Northwestern University's Feinberg School of Medicine is the recipient of a $9.6 million dollar, 6½-year contract from the National Institutes of Health (NIH) to participate in the largest study of health and disease in Hispanic/Latino populations living in the United States.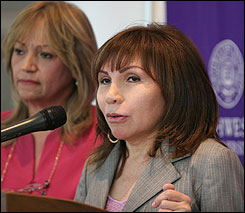 Dr. Martha L. Daviglus (right), professor of preventive medicine at the Feinberg School, is principal investigator for the study.
Chicago has been selected as one of four research sites and a coordinating center that altogether were awarded $61 million for the study.
The Chicago study will be conducted under the leadership of Martha L. Daviglus, MD, PhD, professor of preventive medicine and principal investigator for the study. A multidisciplinary team of health experts from Northwestern University and the University of Illinois at Chicago (UIC) collaborated to obtain the highly competitive award.
"This is an historical event that will provide us with the opportunity to assess the diversity of health needs of Latinos in the areas of cardiovascular disease, asthma, diabetes, and many other conditions," Dr. Daviglus said.
Chicago is an ideal site for the study. With 753,644 Hispanics, Chicago has the third largest Hispanic population in the country. The project will recruit 4,000 Hispanics of diverse nationalities—Mexicans, Mexican Americans, Puerto Ricans, and Central and South Americans—from communities throughout the Chicago area.
Participants will receive a series of screening and medical examinations to help researchers identify the prevalence of and risk factors for a variety of diseases, disorders, and conditions. They will be followed initially for up to four years. The clinical examinations will be performed at CommunityHealth, a free clinic that has served more than 27,000 uninsured, low-income individuals and families since it was founded in 1993. Approximately 65 percent of CommunityHealth's patients are Latino.
"We know that Latinos, who are becoming the largest minority group in the country, have a higher prevalence of obesity, diabetes, hypertension, and other risk factors," Dr. Daviglus noted. "Hopefully we can apply what we learn from this study to improve the health of Latinos and other underserved populations."
The study will explore the role of lifestyle factors such as diet, acculturation, and socioeconomic status, along with limited access to health care.
"Due to the accelerated growth of the Latino population nationwide and in Chicago, there is a great need to assess health needs for planning and implementation of linguistically and culturally appropriate services," added Aida L. Giachello, PhD, co-principal investigator and associate professor at UIC's Jane Addams College of Social Work and director of the UIC Midwest Latino Health Research, Training and Policy Center. "This study is a dream come true."
Both Drs. Daviglus and Giachello are of Hispanic background. Kiang J. Liu, PhD, professor of preventive medicine at Northwestern, is another co-principal investigator.
Other sites for the national project, the Hispanic Community Health Study, are Miami, San Diego, and New York City. The study for all four cities will have as many as 16,000 participants. The study is funded by the National Heart, Lung, and Blood Institute and six other components of the NIH.
"The Hispanic population is expected to triple by 2050," said NIH director Elias A. Zerhouni, MD. "As this population continues to increase—and to experience varying rates of disease—it is vitally important to understand the risk factors and health behaviors that contribute to these diseases. The knowledge gained from this study will benefit not only Hispanic populations but will also enhance understanding of health and disease in other ethnic groups."
Other study collaborators from Northwestern include Sujata L. Archer, PhD, RD; David W. Baker, MD, MPH; Virginia Bishop-Townsend, MD, MPH; Mercedes R. Carnethon, PhD; Pablo Denes, MD; David Green, MD; Donald M. Lloyd-Jones, MD; Mary D.M. McDermott, MD; Lewis J. Smith, MD; Jeremiah Stamler, MD; Lu Tian, ScD; Linda V. Van Horn, PhD, RD; Phyllis C. Zee, MD, PhD; Sumitrajit Dhar, PhD; and Pamela J. Fiebig, MA, CCC-A. Additional collaborators include Victoria W. Persky, MD, and Rosemary Sokas, MD, from UIC; Shirley Beaver, RDH, PhD, from Kennedy King College; James P. Choca, PhD, from Roosevelt University; Patricia Canessa, PhD, from Salud Latina; and Esther Sciamarella from the Chicago Hispanic Health Coalition.