NIH's Nabel Speaks on Genomics at Feinberg Lecture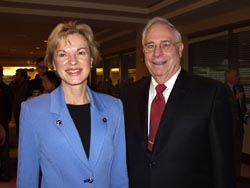 At the Feinberg Lecture reception, keynote speaker Dr. Elizabeth Nabel joins Dr. Francis Klocke, director of the Feinberg Cardiovascular Research Institute.
Americans have experienced a decline in heart disease in the past several decades, and the future holds even more innovative therapies to prevent heart attacks and strokes, according to Elizabeth G. Nabel, MD, director of the National Heart, Lung, and Blood Institute (NHLBI) and guest speaker at the 10th annual Frances Feinberg Memorial Lecture held March 8 at Northwestern Memorial Hospital. Dr. Nabel spoke on genomic medicine and cardiovascular disease (CVD).
Thanks in part to the landmark Framingham Heart Study that started in 1948, the identification throughout the years of risk factors such as cigarette smoking, high blood pressure, elevated cholesterol levels, physical inactivity, and obesity has helped to reduce deaths related to CVD. Since the 1970s when CVD-related mortality began to decline, government-sponsored research such as the Framingham study, preventive medicine, and public health campaigns have saved many lives.
"Historically the NHLBI has issued guidelines that have influenced the practice of medicine and treatment of CVD," said Dr. Nabel, a cardiologist who joined the agency in 1999 as director of the Clinical Research Program in the Division of Intramural Research. "Today's medical students, residents, and fellows have grown up thinking that these risk factors have been around for years and years, when really the first identification of a risk factor came in the 1960s."
An internationally renowned researcher in vascular biology and genetic therapies, Dr. Nabel assumed her position as head of the NHLBI in 2005. Heartily applauding this country's investment in biomedical research that has "reaped large dividends and achieved success in the fight against heart disease," she looks to new research advances that will shape the future of medicine. The treatment of diseases, especially with the help of genetic therapies, will become "predictive, preventive, preemptive, and personalized." Shared Dr. Nabel, "These are the four 'Ps' that we emphasize with members of Congress."
The completion of the Human Genome Project—the mapping of the approximately 20,000–25,000 genes in human DNA—in 2003 as well as other public-sector databases such as those maintained by the NHLBI have opened the door for the investigation of new areas of genetic research. Someday genotyping and phenotyping may become the norm to better zero in on genetic mutations that put individuals at risk for certain diseases. Using that knowledge, clinicians will be able to tailor prevention methods and treatment to subpopulations of patients, Dr. Nabel predicted.
"A paradigm shift has occurred," she remarked. "In the future we may be genotyping for risk factors and following and assessing an individual's health rather than waiting for the first presentation of disease. Now we are waiting for something to happen."
Dr. Nabel discussed the use of warfarin (also known as Coumadin®), a commonly prescribed anticoagulation drug to prevent blood clots, as a therapy that could benefit from a genomic approach. Clinicians often have a difficult time adjusting the dosage of warfarin, a process Dr. Nabel described as "hit or miss." Studies have shown that some people have a genetic predisposition and are more sensitive to warfarin than others, due, for example, to a certain liver enzyme. Said Dr. Nabel, "I envision that to reach our goal of determining safe and effective doses, future clinical trials will investigate proper dosage based on gene types."
Excited about the outlook for biomedical research, medicine, and gene therapy, Dr. Nabel urged members of the Feinberg lecture audience to take advantage of innovative research opportunities and novel genetic tools for understanding common and rare diseases. "We have had a long run in preventive medicine," said Dr. Nabel, who met with several junior faculty members at the Feinberg School of Medicine during her visit. "As we embark on this new era where genetic information will merge with preventive medicine information, we want to encourage young and new investigators to join the NHLBI in its endeavors."