In Memoriam (David Smith)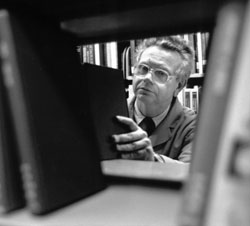 David W.E. Smith, MD, professor emeritus of pathology at the Feinberg School, died September 12 of complications from multiple sclerosis (MS). He was 71.
A native of Fargo, North Dakota, Dr. Smith joined the medical school faculty in 1969 as professor of pathology. He earned his MD degree from Yale University and worked at the National Institutes of Health and Indiana University before coming to Northwestern. In 1988 he became co-director of the Buehler Center on Aging and retired in 2000.
His many research publications focused on biochemistry and molecular biology, which reflected his recognized expertise on transfer RNA, the molecules that translate the nucleotide language of DNA into the amino acid language of proteins. Dr. Smith also studied aging and longevity in populations. His 1993 book, Human Longevity, brought together research in medicine, biology, demography, epidemiology, gerontology, and sociology to explain why women live longer than men and examine why humans live nearly twice as long as other warm-blooded animals.
Since the age of 12, Dr. Smith played the cello, an activity he continued until the mid-1980s when the effects of MS forced him to give it up. About 10 years ago, because of difficulty negotiating the stairs, he moved out of the Lincoln Park Victorian town house he restored to 1212 North Lake Shore Drive. Previously he and his wife of 45 years, Diane Leigh Walker, established a community garden in Lincoln Park that won a city beautification award.
In addition to his wife, Dr. Smith is survived by his sister, niece, and nephew. A memorial service is planned for October 8 in the community room at 1212 North Lake Shore Drive.