Alumni Medal Caps Northwestern Love Affair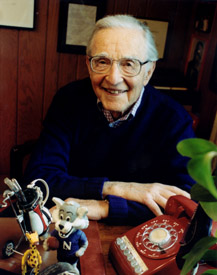 For more than 80 years, the Traisman family "business" has specialized in excellent pediatric care and a deep loyalty to Northwestern. Pediatrician Howard S. Traisman, MD '47, GME '51, followed in the footsteps of his late father, former medical school faculty member Alfred S. Traisman, MD, in both respects.
"My father attended medical school at the University of Illinois, but he was a staunch Northwestern fan," shares Dr. Traisman, professor emeritus of pediatrics. "When my brother and I were young boys, we would all hop on the el from our home in East Rogers Park and go to Evanston for Northwestern football and basketball games."
A renowned expert in the care of children with insulin-dependent diabetes, Dr. Traisman's achievements in his field as well as his lifelong affection for the purple and white this year earned him the University's highest alumni honor. During an awards ceremony April 9 at Chicago's Palmer House Hilton, Dr. Traisman received the Alumni Medal.
"This award is something that I couldn't have dreamed of receiving. I am on Cloud 9," says Dr. Traisman, whose service to Northwestern was also recognized in 2002 with the Feinberg School of Medicine's Outstanding Lifetime Service Award. "Northwestern was the first university I was introduced to. I have always felt close to it."
So naturally Dr. Traisman selected Northwestern for his undergraduate premed work, graduating with bachelor's degrees in chemistry in 1943 and medicine in 1946 and an MD degree in 1947. Joining the U.S. Army, he completed his internship at Cook County Hospital, where his clinical training exposed him to patients with diabetes—an interest that would become his life's work. In 1949 Dr. Traisman returned from a two-year tour of duty in Korea and Japan as a medical corps officer and began his pediatrics residency at Northwestern under the watchful eye of the senior Dr. Traisman, associate professor of pediatrics at the time.
"I learned a lot from him about conducting thorough histories and physical exams during an era when we didn't have all the diagnostic modalities available today," recalls Dr. Traisman, who joined his father in private practice in 1951 after his training. One of his three sons, Edward S. Traisman, MD '81, followed suit in 1984. This third-generation Dr. Traisman continues the pediatric practice of his grandfather and father that started on Chicago's North Side but now is based in Evanston, Illinois. Irwin Benuck, PhD, MD '79, GME '82, professor of clinical pediatrics, also is a member of the group practice.
Subspecializing in endocrinology, Dr. Traisman was among a handful of pediatricians in the country treating children with juvenile diabetes in the 1950s. Heading the Diabetes Clinic at Children's Memorial Hospital (CMH) from 1965–89, he had much to do with advancing pediatric medicine and the care of diabetic children. Dr. Traisman published his first textbook on the subject in 1965, with two more editions released in 1971 and 1980; the third edition of his book appears in Japanese.
He has served on various ad hoc committees on diabetes and other pediatric issues for the National Institutes of Health. Dr. Traisman was also a founding member of the Lawson Wilkins Pediatric Endocrine Society and served on committees of the American Academy of Pediatrics and American Diabetes Association (ADA) and as president of the Chicago Pediatric Society. His many honors include the first Distinguished Service Award from CMH, Diabetes in Youth Award from the ADA, and Mead Johnson Scholar's Award.
"So many advancements in the treatment of diabetes have taken place, including better ways to self-administer glucose testing, insulins, methods for the early detection of complications, and education of patients and the public," says Dr. Traisman. "One of my first patients in 1951, who died just a year ago, lived to be 62 years old. Physicians used to see diabetic patients whose life spans would be only three-fourths of the norm. That has now changed."

Residing in Evanston and living in the same house for the past 46 years, Dr. Traisman, 82, and wife Regina raised three sons and now enjoy spending time with their four grandchildren not far from his beloved Northwestern. Signs of his alma mater are evident throughout the Traisman home, particularly in the den. A football-uniformed Willie the Wildcat bobble head sits on Dr. Traisman's desk along with a medical school Alumni Merit Award granted in 1995 and a plaque recognizing his service as president (1999–2001) of the Feinberg School's Alumni Association National Board. A Northwestern pennant hangs on a wall.

Dr. Traisman has contributed leadership, service, and funds to his alma mater almost continuously since his graduation from the medical school. His philanthropy helped establish the Howard and Regina Traisman Student Center in the Tarry Building in 1997. He has participated in activities ranging from the Ward Rounds Editorial Board and John Evans Club board of directors to the medical school dean search committee and Executive Board for the University's "A Day with Northwestern in Evanston" seminar program. Retired since 2002, this class representative now spends 90–100 hours per year teaching medical students in the Problem-Based Learning course and serving on the Office of Admissions' Interview Committee.

"Getting and being involved is payback for your future," says Dr. Traisman. "Judging by my own experience, my affiliation with Northwestern has been personally very gratifying."
(Reprinted from the Summer 2005 issue of Ward Rounds.)