Medical Students Spearhead Disaster Fund Drive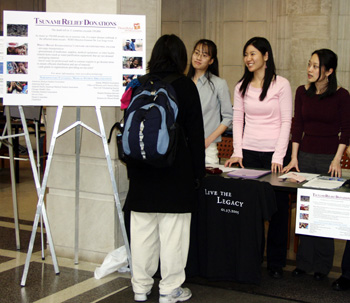 Fourteen Northwestern medical student groups have joined forces to raise funds to aid survivors of the recent earthquake and tsunami in South Asia. Led by the Feinberg School of Medicine chapter of GlobeMed, students are collecting monetary donations during the lunch hour in the Method Atrium, 310 East Superior Street, through January 14 and at campus events throughout the month.
Sponsoring disaster relief drives is a main purpose of the Global Medical Relief Program or GlobeMed, which was founded by second-year medical student John P. Broach II in 1999 when he was a Northwestern University undergraduate. The student-run group collects and sends medical supplies to those in need around the world, in addition to raising funds for disaster relief, health education, and support infrastructure. GlobeMed President Jane M. Lee, a second-year student, coordinates the tsunami fund drive.
Those wishing to donate to the medical student tsunami relief effort may send checks payable to GlobeMed (write "Northwestern affiliate" on the memo line) to the Office of Minority and Cultural Affairs, Northwestern University, Feinberg School of Medicine, 303 East Chicago Avenue, Morton 1-658, Chicago, IL 60611-3008. GlobeMed is a 501(c)(3) tax-deductible, charitable organization.
For more information, call the Office of Minority and Cultural Affairs at 312/503-0461.