Design Show Taps Annual Report for Top 100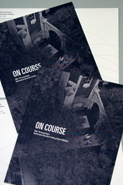 The Feinberg School of Medicine's fiscal year 2003 annual report, "On Course," has been selected as one of 100 annual reports to be honored in Black Book's AR100 Award Show Book.
AR100 is considered the nation's largest and most prestigious annual report competition, according to Liz Haldeman, senior designer at Pivot Design in Chicago, which designed the Feinberg School annual report. "It is extremely rare for this show to honor a report from a nonprofit organization," says Haldeman. "Most of the honorees are from Fortune 500 companies."
A panel of leading designers judge AR100 entries in categories covering many aspects of a report's creative process including design, photography, most innovative concept, typography, and printing. The judges also consider how well the report reflects the company's personality. More than 400 annual reports were submitted to this year's show.
The top 100 annual reports will be highlighted in Black Book's AR100 Award Show Book. With a press run of 12,000, the show book will be distributed in September to leading design firms, corporations, and agencies that produce annual reports in the United States and Canada.
Production of "On Course" was spearheaded by the Feinberg School's Office of Publications and Public Relations. To see a copy of the report, visit www.feinberg.northwestern.edu/ar2003/ .