April 14, 2004
April 20 Marks Lecture by Internationally Renowned Geneticist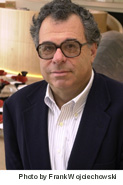 The Feinberg School's Center for Genetic Medicine hosts a free public lecture by internationally known geneticist David Botstein, PhD, on April 20, from 4–5 p.m., in Turnbull Auditorium, 303 East Chicago Avenue, Ward 1-074, on the Chicago campus. Dr. Botstein, Anthony B. Evnin Professor of Genomics and director of the Lewis-Sigler Institute of Integrated Genomics at Princeton University, will present a lecture titled "Of Genes and Genomes." A reception follows the lecture.
In 2003 Dr. Botstein received a lifetime achievement award from the International Congress of Genetics. Two decades earlier, Dr. Botstein and three colleagues proposed a method for mapping genes that laid the groundwork for the Human Genome Project. The researchers suggested that changes in DNA sequence called restriction fragment length polymorphisms could be used to produce a linkage map of the human genome and to map the genes that cause disease in humans.
Dr. Botstein's work uses genetic methods to understand biological functions. His current research includes gene expression studies of tumor cell biology in models of metastasis. "One striking result from studies of gene expression in breast, lung, liver, ovarian, and gastric tumors is the similarity in gene expression between lymph node metastases and primary tumors," he says. "We aim to identify the many signaling, migration adhesion, growth, and development processes that must accompany the establishment of essentially similar tumors."
The geneticist's presentation is made possible by an endowment from Richard A. Scott, MD, that established the Center for Genetic Medicine's Scott Lecture.