Poster Session Highlights Medical Student Research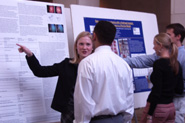 From signal transduction and malignant transformation of cells to functional magnetic resonance imaging of the heart and patient-physician communication in the hospice setting, Northwestern medical students made the most of research opportunities available through the Medical Student Summer Research Program. On October 30, 42 Feinberg School students presented their projects in a poster session from 9 a.m. to 6 p.m. in the Method Atrium. During the 4–6 p.m. reception, students were available to talk about their work.
Robert S. Decker, PhD, professor of cell and molecular biology, has directed the Medical Student Summer Research Program for about 10 years. "We believe it's an important opportunity for students to learn how medical science is done, whether it's basic science or clinical research. During the intensive 10 weeks students typically work, they learn about laboratory procedures and how to formulate hypotheses, do experiments, analyze data, and come to conclusions. When they begin clinical rotations and start treating patients using various drugs, therapies, and technologies, they will have some notion of how these were developed."
Most students work the summer after their first years at the Feinberg School, but Dr. Decker says second-, third-, and fourth-year students also take advantage of the program. Students from the seven-year Honors Program in Medical Education (HPME), in which students are accepted to Northwestern's undergraduate school and medical school simultaneously, also apply. Comprising 36 faculty members from different disciplines, a summer research committee reviews project proposals and scores them. Those with the highest scores receive funding through various University endowments. About 80 percent of students who apply are funded.
"Several other entities support student research projects," says Dr. Decker. He notes that the Buehler Center on Aging, Robert H. Lurie Comprehensive Cancer Center of Northwestern University, and Feinberg Cardiovascular Research Institute have all supported projects related to their disciplines. Adds Dr. Decker, "Children's Memorial Hospital has a Katz Fellowship for summer research in immunobiology, and medical school departments also regularly fund student research."
Christopher Chow, an HPME student in his third year of undergraduate studies, spent two summers in the laboratory of Jonathan P. Fryer, MD, assistant professor of surgery and a liver and intestinal transplantation specialist. "In high school and the first year of undergraduate school I was focused on classes and had not been exposed to anything research based," says Chow. "I was interested in finding out what research was about."
For his project, "Small bowel allograft rejection is augmented by donor epithelial NF(kappa)B activation," he estimates he spent about 18 weeks working in the lab the first year. Says Chow, "I expect to continue the work I did this summer into the winter and spring quarters."
Second-year student Ahmad Aref looked for summer research opportunities both at Northwestern and elsewhere. He chose a project focusing on tonometry, the technique used to measure intraocular pressure, with Theodore Krupin, MD, professor of ophthalmology. "This project interested me the most, and Dr. Krupin gave me the most opportunities for patient contact, conference attendance, and independence in conducting the research," says Aref. "Several studies have shown that tonometer measurement is somewhat dependent on corneal thickness. If a person has a thicker cornea, the tonometer gives a higher reading, and such patients may be misdiagnosed as ocular hypertensive."
Aref's project examined central corneal thickness and thickness around the center at five points. Once he learned the technique, Aref saw about 10 patients a day and took the measurements himself. "We found significant differences in thicknesses at each point," he says. "That means we have to take all those thicknesses into account, not just central corneal thickness, which has been the focus of most of these studies. We expect that a method will be needed to recalculate intraocular pressure, taking into account these differences."
Notes Dr. Decker, "Many students carry on their projects far beyond the summer, coming in part time whenever they can to finish their work, which has sometimes led to publication in journals. I expect these experiences have changed some students' career goals. We hope these students not only consider research as part of their future careers, but also careers in academic medicine."