Medical Faculty Members Honored for Teaching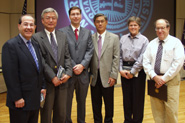 This year's Founders' Day Convocation on August 29 offered the essential ingredients for an official opening of an academic year: a hearty welcome for the Class of 2007; words of wisdom by J. Larry Jameson, MD, PhD, Irving S. Cutter Professor and chair of medicine; and recognition of the Feinberg School's best teachers.
Dean Lewis Landsberg presented the Dean's Award for Teaching Excellence to Honorio T. Benzon, MD, professor of anesthesiology; Patricia M. Garcia, MD, MPH, assistant professor of obstetrics and gynecology; Julian Ullman, MD, assistant professor of clinical obstetrics and gynecology; and Chau H. Wu, PhD, associate professor of molecular pharmacology and biological chemistry. The Dean's Award was established during the tenure of former dean Harry N. Beaty, MD.
The George H. Joost Awards for Basic Science Instruction were awarded to James Baker, PhD, professor of physiology, and Alan R. Hauser, MD, PhD, assistant professor of microbiology—immunology. Joost Award recipients are selected by the first- and second-year students.
Alvin G. Telser, PhD, associate professor of cell and molecular biology, and G. Kenneth Haines III, MD, associate professor of pathology, received the 2002 American Medical Women's Association/Upjohn Gender Equity Awards for basic science and clinical teaching, respectively. This award recognizes faculty member contributions to promoting a gender-fair environment for educating physicians.