Feinberg School Annual Report Now Online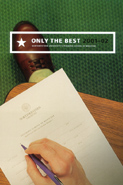 The Feinberg School of Medicine's last annual report is now available online. Only the Best 2001–02, which is available in a PDF document, chronicles the school's efforts during the past academic year to be among the best in education, research, and clinical care. Leading off a year-end review of achievements in each of these areas are profiles of Leslie Murray, a student in the MD/MPH program; Patricia G. Spear, PhD, Youmans Professor and chair of microbiology—immunology; and Leon G. Epstein, MD, professor of pediatrics.
The community service section recognizes the contributions of Leonore F. Soglin, MD, instructor in medicine, who volunteers at a battered women's shelter; alumnus Arnold L. Widen, MD, who works at Community Health, a free clinic on Chicago's West Side; medical student Maulik D. Majmudar, who volunteers at the Charitable Foundation Clinic, which serves residents of Chicago's Indian and Pakistani community; and New York alumnus Charles Failmezger, MD, who volunteers for numerous medical missions including the Northwestern University-Alliance for International Development (NU-AID) trip to Nicaragua in 2002.
Production of the annual report was coordinated by the Feinberg School's Office of Publications and Public Relations. Pivot Design of Chicago provided graphic design; Jim Ziv was the principal photographer.
For more information, see the complete report in the About the School or Dean's Message page or visit www.med.northwestern.edu/ar2002/index.htm .