Linda Van Horn Named Editor-in-Chief of Nutrition Journal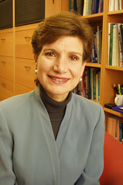 This March the American Dietetic Association (ADA) celebrates 30 years of promoting healthy eating via its National Nutrition Month®, an annual nutrition education and information campaign. So it seems fitting that the organization announced on March 10 the appointment of Linda V. Van Horn, PhD, RD, a registered dietician and professor of preventive medicine at the Feinberg School, as editor-in-chief of the Journal of the American Dietetic Association.
Dr. Van Horn, an expert on the role of diet and nutrition in the prevention and treatment of chronic diseases, will assume leadership of the publication in June and move its base of operation from Seattle, where the current editor is located. Dr. Van Horn will continue in her role as a Northwestern faculty member and oversee the journal's operations from the medical school.
Regarded as the premier peer-reviewed research journal in the areas of food, nutrition, and dietetics, the publication serves as a valuable resource for the ADA's nearly 70,000 members and other health care professionals. Members of the ADA include registered dietitians and dietetic technicians.
"Through her research, publications, and community service, Linda Van Horn demonstrates the highest qualities of leadership in food and nutrition science and the role of the dietetics profession in improving people's lives," said ADA president Julie O'Sullivan Maillet. "We are excited that she is bringing her leadership qualities and abilities to ADA's journal."
Highly respected and well published in her field, Dr. Van Horn conducts research on the benefits of fat-modified diets that are high in fruits, vegetables, and fiber to reduce the risk of cardiovascular disease, breast cancer, and chronic conditions. A participant in several multicenter, collaborative clinical trials, Dr. Van Horn serves as principal investigator of the Northwestern Vanguard Study—a key component of the Women's Health Initiative (WHI). Launched in 1991 by the National Institutes of Health, the WHI is the largest clinical study ever conducted in the United States.