Minority and Cultural Affairs Office Opens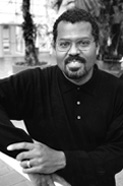 The Feinberg School's new Office of Minority and Cultural Affairs recently opened its doors for business right in the heart of the medical school complex—on the main floor of the Morton Building just down the hall from the Offices of Student Affairs and Admissions. There John E. Franklin, MD, MSc, associate professor of psychiatry and behavioral sciences and since August 1 associate dean for minority and cultural affairs, hopes to "provide a warm and supportive environment" for the entire Northwestern medical community.
"This medical school and the nation," says Dr. Franklin, "have been challenged to address the well-documented racial disparity in health outcomes. Meeting the health care needs of an increasingly diverse population requires us to train culturally competent health care providers."
Cultural competency, Dr. Franklin says, is the ability to understand different behaviors, attitudes, and policies so that people can be effective caregivers in a cross-cultural world. Culturally competent health professionals would try to understand and respect the beliefs people bring to the clinical encounter as well as recognize how decisions are made within the context of families and cultural traditions.
Dr. Franklin believes Northwestern has the opportunity to be a leader in cultural and minority affairs. To this end, his office will support "a sundry of related initiatives" including summer research and educational experiences and community programs that prepare students early in their education to enter health care fields. "We will aggressively recruit qualified students, residents, and faculty members of color," he says. "The more diverse classrooms, clinics, and laboratories become, the greater the potential for personal and professional growth." He plans to assist search committee chairs in their endeavors to "promote excellence through diversity."
Recalling a visit to communist China in the late 1970s, Dr. Franklin says, "I fully expected a very exotic world, much different from my own. But…the enduring sense I came home with was that those people had the same basic concerns as I do—finding meaningful work, raising and educating a family, and having a little fun now and then. On September 11, 2001, most people in this country glimpsed the strength of our society's diversity. Let's not forget that important lesson."
For more information about the Office of Minority and Cultural Affairs and/or to share ideas, contact Dr. Franklin at 312/503-0461.