Art in the Atrium Highlights School Talent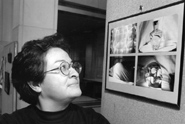 Works by the Feinberg School's faculty, staff, and students, as well as staff members of the Northwestern Medical Faculty Foundation, will be featured October 15–17 during the 11th Annual Art in the Atrium, sponsored by the school's Staff Relations Committee.
Held in the Method Atrium, 300 East Superior Street, Art in the Atrium will feature up to 35 original works including a beaded quilt and basket, a digital collage, oil and watercolor paintings, a wood carving, and color and black-and-white photographs. The works will be on display from 10 a.m. to 3 p.m. each day.
For more information about Art in the Atrium, contact SRC member Ava Rokop at 312/926-3901.