Hollister Lecture to Focus on How Fight on Bioterrorism May Affect Individual Rights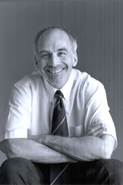 The 9/11 attacks and Anthrax scares that followed changed the world in every way including U.S. lawmakers' and public health officials' responses to bioterrorism. Furthering the dialog on how steps to fight bioterrorism may affect individuals and society as a whole, the 2002 Hollister Distinguished Lecturer Lawrence Gostin, JD, LLD (Hon.), codirector of the Georgetown/Johns Hopkins Program on Law and Public Health, will speak on "When Terrorism Threatens Health: How Far are Limitations on Human Rights Justified?"
Sponsored by Northwestern University's Feinberg School of Medicine, Institute for Health Services Research and Policy Studies, and School of Law along with Northwestern Memorial Hospital, the Hollister Lecture will be held Friday, October 11, at 3:15 p.m., in the hospital's Pritzker Auditorium, with a reception to follow. All are welcome to attend.
Gostin, professor of law at Georgetown University and professor of public health at Johns Hopkins University, has led major law reform initiatives for the U.S. Department of Health and Human Services such as the Model State Public Health Information Privacy Law. He has also worked with a consortium of states to develop the "Turning Point" Public Health Statute Modernization Project to draft a model of public health law. Since September 11, he has spearheaded the drafting of the Model Emergency Health Powers Act (MEHPA) to combat bioterrorism and other emerging health threats.
The Hollister lecture honors John Hamilcar Hollister (1824-1911), AM, MD, one of the cofounders of Northwestern's medical school. For more information about the lecture, call 847/467-5516.