Visit the Access to Essential Medicines EXPO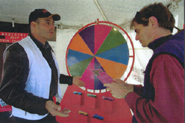 Millions of people die each year from diseases for which medicines are too expensive, no longer effective, or out of production. Northwestern University's Feinberg School of Medicine is one of 22 cities that the Access to Essential Medicines EXPO will visit this year to highlight this dearth of effective and affordable medicines for people in developing countries who suffer from communicable diseases.
The Access EXPO exhibit will be open for visitors on the University's Chicago campus at the corner of Erie Street and Fairbanks Court (close to Northwestern Memorial Hospital) from 10 a.m. to 6 p.m. daily from Friday through Sunday, September 13–15.
Housed in a remodeled 48-foot tractor trailor, the interactive exhibit is staffed by Doctors Without Borders/Medecins Sans Frontieres (MSF) aid workers. Photographs, audiovisuals, and personal testimonials tell the stories of patients who suffer from one of five diseases highlighted in the exhibit: malaria, tuberculosis, sleeping sickness, kala azar, and HIV/AIDS. The tour's goal is to raise awareness about the lack of research and development for new medicines for neglected diseases and to encourage support for greater access to essential medicines for people in developing countries.
MSF is an independent non-governmental humanitarian organization that delivers emergency health care to people in more than 85 countries. In 30 years of working in some of the world's poorest regions, MSF has found there are fewer and fewer effective treatment options for its patients. In 1999 the organization launched the Access to Essential Medicines campaign to stimulate change in the way medicines are developed and priced.