Entering Medical Students Don White Coats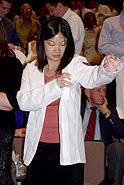 This year's entering medical students have arrived from both coasts and everywhere in-between and beyond. The Class of 2006 was officially welcomed to Northwestern University's Feinberg School of Medicine at the Founders' Day Convocation on August 30. The annual event marked the 144th opening of the medical school academic year. During the White Coat Ceremony, the 170 entering class members put on white coats designating them as bona fide medical students.
Northwestern selected this year's newcomers from an applicant pool of 6,054 students, who were vying for 131 positions in the regular MD program. Northwestern's Honors Program in Medical Education (a combined baccalaureate/MD program) served as the point of entry for 39 members (23 percent) of the class.
Seventy-seven (45.3 percent) are female and 93 (54.7 percent) male. Entering medical students have an average age of 23 years; the youngest student is 20 and the oldest 44. Considered "nontraditional" students, 63 (37 percent) took off at least a year between receiving undergraduate degrees and starting medical school.
The new first-year students represent 32 states and nine foreign countries and/or U.S. territories and possessions. Illinois is home to 49 (28.9 percent) while a significant number, 30 (17.6 percent), hail from California. Eight each come from Indiana, Michigan, and New York.
Ten (5.8 percent) are enrolled in the Medical Scientist Training Program, a typically seven-year program leading to both MD and PhD degrees. Eleven (6.4 percent) are pursuing the joint MD/MPH degree program.