Recruitment Publication Wins Design Award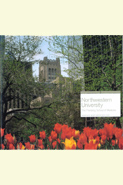 The primary recruitment publication to attract MD degree applicants to Northwestern University's Feinberg School of Medicine has won a 2002 American Graphic Design Award from Graphic Design: usa, a monthly journal distributed to more than 30,000 graphics industry leaders. The viewbook, which was published in May 2002, presents in a succinct, colorful format all the information that a prospective medical student may need including descriptions of the campus, curriculum, faculty, degree options, student body, and student activities as well as student testimonials and faculty and alumni profiles.
Because today's prospective students are quite computer-savvy, Pivot Design of Chicago, the graphic designers for the project, came up with a theme based on the World Wide Web. This translates into the school's URL being carried throughout the 16-page booklet as part of the design and readers being referred to many Web sites for additional information. Laura Bleiler, associate director of publications and public relations, was the viewbook's project manager. She received valuable guidance from Delores Brown, associate dean for admissions; Raymond H. Curry, MD, executive associate dean for education; and John X. Thomas Jr., PhD, associate dean for educational programs.
Each year approximately 8,000 prospective students apply for 110 positions in the regular MD program at Northwestern. Another 60 students enter the medical school through the Honors Program in Medical Education, in which highly qualified high school students are admitted to an accelerated program that includes three years of study on Northwestern's Evanston campus before starting medical school.