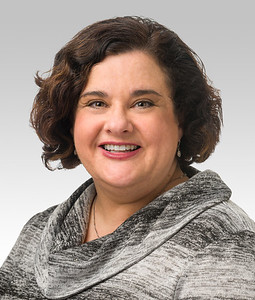 Debra Duquette, '92 MS, associate professor of Medicine in the Division of Cardiology, has been named the new director of Feinberg's Graduate Program in Genetic Counseling (GPGC), effective August 1.
Duquette succeeds Catherine Wicklund, MS, professor of Obstetrics and Gynecology in the Division of Clinical Genetics, who joined Myriad Genetics. For the last 17 years under Wicklund's leadership, the program has established itself as a premier training program, having placed graduates in academia, clinical practice and industry.
"I am incredibly honored to be serving as program director and thankful for the tremendous work and years of leadership of Professor Wicklund," Duquette said. "I am continually inspired and energized by our exceptional students, faculty, staff and alumni, and thankful to be part of Northwestern University and for our collaborations with other programs. I'm thrilled to be a part of the professional journeys of our current and future students."
A Northwestern alumna, Duquette earned her master's degree in genetic counseling from the GPGC and was part of the inaugural Class of 1992. She returned to Feinberg in 2017, assuming the roles of associate director of the GPGC and as a member of the Center for Genetic Medicine. During the 2021-22 academic year, she served as interim director and subsequently as co-director of the program.
Prior to joining Northwestern, Duquette gained experience as a clinical genetic counselor, then served as state genomics coordinator for the Michigan Department of Public Health for 13 years.
Duquette's research interests include public health genomics, and genetic counseling and testing for oncology, cardiac and nephrology transplantation. Her research has been supported by the National Institutes of Health, American Heart Association, Patient-Centered Outcomes Research Institute and the Centers for Disease Control and Prevention. Most recently, the Warren Alpert Foundation joined this list of supporters, under the shared vision of propelling and fostering the career advancement of genetic counselors and genomics research.
Under Duquette's leadership, the GPGC recently received an eight-year reaccreditation from the Accreditation Council for Genetic Counseling (ACGC), the longest possible reaccreditation and a reflection of the academic accomplishments of the Northwestern program.
"We're very thankful for the invaluable time and expertise of our staff, faculty, alumni and staff that helped with our reaccreditation," Duquette said. "We look forward to the future of our program. This month, we developed our program's strategic plan for the coming five years. I'm especially excited about our goal to establish more collaborative relationships within Northwestern to enrich our graduate students' experiences while serving the community, as well as our ongoing goal to foster an environment where students feel empowered to facilitate change in the genetic counseling field. I'm especially hopeful about the future of our profession and continuing our work in genetic counseling research and community outreach."