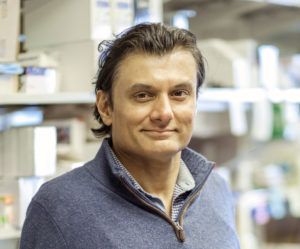 Navdeep Chandel, PhD, the David W. Cugell, MD, Professor of Medicine in the Division of Pulmonary and Critical Care and of Biochemistry and Molecular Genetics, has been named a recipient of the 2023 Lurie Prize in Biomedical Sciences by the Foundation for the National Institutes of Health (FNIH).
Chandel joins Vamsi Mootha, MD, an investigator of the Howard Hughes Medical Institute, investigator in the Department of Molecular Biology at Massachusetts General Hospital, a member of the Broad Institute, and a professor of Systems Biology and Medicine at Harvard Medical School, who was also named a recipient of this year's Lurie Prize.
Each scientist has made important and distinct discoveries in the field of mitochondrial science by exploring the characteristics and functions of mitochondria in human physiology and disease.
"Each of this year's Lurie Prize recipients are breaking new ground in mitochondrial research," said Dr. Julie Gerberding, President and CEO of the FNIH. "Drs. Chandel and Mootha embody the innovative spirit of the Lurie Prize as they advance our understanding of the many roles these complex structures play in health and disease."
Chandel's research team has shown that mitochondria do much more than supply energy to cells. His research team has revealed how mitochondria function as signaling organelles that control the body's normal functions and impact diseases, including cancer and inflammation.
"Mitochondrial signals are critical regulators and unraveling their complex functions could advance the design of new therapies. Receiving the Lurie Prize honors the entire past and present Chandel Lab. It is a celebration of my mentors, collaborators and my mentees, and a recognition of the importance of progress in the mitochondrial field," said Chandel, who is also a member of the Robert H. Lurie Comprehensive Cancer Center of Northwestern University.
Currently in its 11th year, the Lurie Prize in Biomedical Sciences recognizes outstanding achievement by promising scientists ages 52 years and younger. The prize includes a $50,000 honorarium to each awardee, made possible by a donation to the FNIH by philanthropist Ann Lurie, president of the Ann and Robert H. Lurie Foundation and president of Lurie Holdings, Inc.
"The creative research of Drs. Chandel and Mootha is unlocking the secrets of mitochondria and their critical role in health and disease. I look forward to seeing the continued impact of their work and their influence on future generations of scientists," Lurie said.
A jury of distinguished biomedical scientists selected Drs. Chandel and Mootha as this year's Lurie Prize recipients. The jury is chaired by Solomon H. Snyder, MD, Distinguished Service Professor of Neuroscience, Pharmacology and Psychiatry, founder and past director of The Solomon H. Snyder Department of Neuroscience at Johns Hopkins University, and Vice Chairman of the FNIH Board.
The 2023 Lurie Prize will be awarded to both recipients at the FNIH 11th annual awards ceremony on Oct. 18 at the REACH at the Kennedy Center for the Performing Arts in Washington, D.C. The sixth annual Trailblazer Prize for Clinician-Scientists will also be presented during the ceremony, as well as the Charles A. Sanders, M.D., Partnership Award.
For more information about the Lurie Prize in Biomedical Sciences and a list of previous winners, please visit fnih.org/LuriePrize.