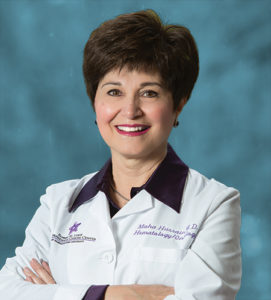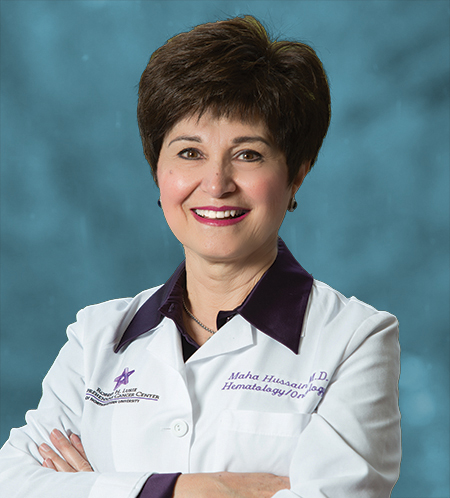 Combining a new hormone therapy drug with chemotherapy and another hormone therapy increased overall survival in patients with high-volume and both high-risk and low-risk metastatic hormone-sensitive prostate cancer (mHSPC), according to a post hoc analysis published in the Journal of Clinical Oncology.
Maha Hussain, MD, FACP, FASCO, the Genevieve E. Teuton Professor of Medicine in the Division of Hematology and Oncology and deputy director of the Robert H. Lurie Comprehensive Cancer Center of Northwestern University, was lead author of the study, a secondary analysis of the results of a large, multi-site international clinical trial.
In patients with mHSPC, prostate cancer can be successfully treated with hormone therapy. Because mHSPC is driven by the male sex hormone androgen, the cancer is treated with androgen-deprivation therapy (ADT) to help block or stop cancer growth.
While most mHSPC patients have elevated hormone levels in the testicular region, about five percent are extragonadal, providing an opportunity to combine ADT with other targeted therapies like androgen receptor/pathway inhibitors (AR-Is).
In a previous randomized, phase III clinical trial called the ARASENS trial, of which Hussain was also a co-author, investigators evaluated the efficacy and safety of two therapeutic approaches in mHSPC patients: darolutamide (an AR-I) plus docetaxel (a chemotherapy drug) plus ADT versus placebo plus docetaxel plus ADT.
In the ARASENS trial, patients who received the darolutamide combination therapy approach demonstrated an increase in overall survival.
In the current study, a secondary analysis of the ARASENS trial, the investigators evaluated the efficacy and safety of the aforementioned therapeutic approaches in mHSPC patient subgroups determined by disease volume and risk. Of the 1,300 study participants, 77 percent had high-volume disease and 70 percent had high-risk disease, respectively.
The investigators then compared the following outcomes in both groups: overall survival, progression to castration resistance and other outcomes compared to placebo based on disease volume and disease risk.
At the end of the study period, darolutamide increased overall survival compared to placebo in the overall patient population and patients with high-volume, high-risk mHSPC as well as in patients with low-risk mHSPC. Trends in low-volume mHSPC also favored the triplet therapy. The darolutamide group also demonstrated improvements in time to castration-resistant prostate cancer and subsequent systemic antineoplastic therapy.
Overall, the hazard ratio across disease volume and disease risk strongly favored the darolutamide triplet therapy, according to Hussain.
"Several potential questions now need to be evaluated and addressed, including the role of therapy holiday in long-term responders, if docetaxel chemotherapy is needed in the era of powerful AR-Is, implications of new imaging in identifying early micrometastases and how best to implement current life-prolonging therapies, amongst other questions," Hussain said.
This work was supported by Bayer AG and Orion Pharma.