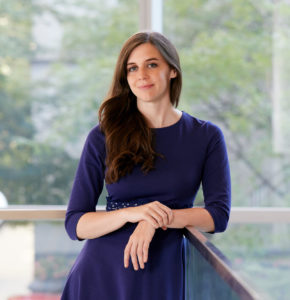 Ann Kennedy, PhD, assistant professor of Neuroscience, has been awarded a prestigious 2023 Sloan Research Fellowship from the Alfred P. Sloan Foundation, selected for her creativity, innovation and research accomplishments. Todd Gingrich, PhD, assistant professor of chemistry in the Weinberg College of Arts and Sciences, was also awarded a Sloan fellowship.
Kennedy and Gingrich were among 126 outstanding early-career researchers awarded this year. The annual fellowships are awarded to scholars in seven scientific and technical fields: chemistry, computer science, Earth system science, economics, mathematics, neuroscience and physics. This year's fellows were drawn from a diverse range of 54 institutions across the U.S. and Canada.
The two-year, $75,000 fellowship is one of the most competitive and prestigious awards available to young scientists, and past fellows have gone on to become some of the most decorated experts in their field. The financial support can be used flexibly to advance the fellow's research.
Kennedy is leading theoretical neuroscience and behavior studies in her lab to investigate how the brain integrates sensory information with an animal's survival needs to drive adaptive behavior.
"The Sloan Foundation has made an important and unique impact in neuroscience through their support of researchers from computational and theoretical backgrounds, so I am incredibly grateful that they have recognized my lab's own work with a Sloan Research Fellowship," Kennedy said.
Kennedy's team develops computational models of subcortical neural circuits and applies methods from machine learning and dynamical systems to study the structure of animal behavior, its modification by survival needs and its dysregulation in diseases and disorders of the nervous system.
Since the first Sloan Research Fellowships were awarded in 1955, 117 Northwestern faculty members have received a Sloan Research Fellowship.