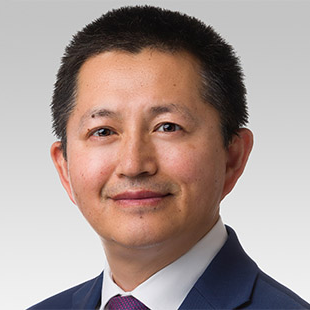 Northwestern Medicine investigators have discovered the mechanisms by which a particular protein promotes cancer cell proliferation and survival in acute myeloid leukemia (AML), according to a Northwestern Medicine study published in Blood.
The findings suggest that PRL2, a protein tyrosine phosphatase, may be a novel therapeutic target for AML, according to Yan Liu, PhD, associate professor of Medicine in the Division of Hematology and Oncology and senior author of the study.
AML is a type of blood cancer in which myeloid cells found in bone marrow interfere with the production of different types of blood cells. The cancer has a poor prognosis, and treatments generally include chemotherapy and other targeted therapy drugs. However, treatment resistance is common among patients and the search for more effective therapeutic targets remains ongoing.
An established oncogenic driver of AML pathogenesis is the FLT3 protein, which previous work has shown to be frequently mutated in AML cells. Additional work has also found that PRL2 is highly expressed in FLT3-mutated AML, but the mechanisms by which PRL2 promotes AML pathogenesis have remained unknown.
In the current study, Liu's team genetically and pharmacologically inhibited PRL2 in mice transplanted with AML cells, discovering that inhibiting PRL2 activity ultimately decreased cancer burden and extended overall survival in the mice.
Subsequent biochemical studies revealed that PRL2 increases FLT3 signaling in leukemia cells through the dephosphorylation of CBL, a ubiquitin ligase protein, which promotes cancer cell proliferation and survival.
Overall, the findings establish PRL2 as an oncoprotein that promotes AML pathogenesis and a novel therapeutic target.
"In the study, we propose that you can either target PRL2 by itself or you could combine the PRL2 and FTL3 inhibitors as a combination therapy in case the patient develops resistance," said Liu, who is also a member of the Robert H. Lurie Comprehensive Cancer Center of Northwestern University.
Co-authors of the study include Shiyu Xiao, a student in the Driskill Graduate Program in Life Sciences (DGP); Yuzhi Jia, MD, PhD, research assistant professor of Pharmacology; Huiping Liu, MD, PhD, associate professor of Pharmacology and of Medicine in the Division of Hematology and Oncology; Loretta Li, MD, assistant professor of Pediatrics in the Division of Hematology, Oncology, and Stem Cell Transplantation; Jessica Altman, MD, professor of Medicine in the Division of Hematology and Oncology; Elizabeth Eklund, MD, the Johanna Dobe Professor of Hematology and Oncology; Peng Ji, MD, PhD, '15 GME, professor of Pathology in the Divisions of Experimental Pathology and Hematopathology; and Leonidas Platanias, MD, PhD, the Jesse, Sara, Andrew, Abigail, Benjamin and Elizabeth Lurie Professor of Oncology and director of the Lurie Cancer Center.
Liu, Li, Altman, Eklund and Ji are members of the Lurie Cancer Center.
This work was supported by National Institutes of Health grants R01 HL150624, R56 DK119524 and R56 AG052501; Department of Defense grants W81XWH-18-1-441 0265 and W81XWH-19-1-0575; the Leukemia & Lymphoma Society Translational Research Program award 6581-20; and the St. Baldrick's Foundation Scholar Award.