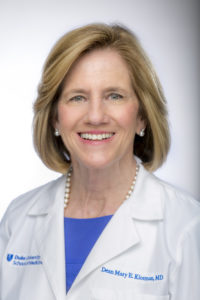 Mary E. Klotman, MD, dean of the Duke University School of Medicine and vice chancellor for Health Affairs at Duke University, will address graduates, parents and guests at Feinberg's 163rd commencement ceremony on Monday, May 23.
A nationally recognized leader in academic medicine, Klotman is also the R.J. Reynolds Distinguished Professor of Medicine at Duke and chief academic officer of the Duke University Health System. Prior to her appointment as dean, Klotman served as chair of the Department of Medicine at Duke University for seven years.
"It's an honor and a privilege to welcome Dr. Mary Klotman to Feinberg as our commencement speaker this year," said Eric G. Neilson, MD, vice president for Medical Affairs and Lewis Landsberg Dean. "Mary is a transformative leader and distinguished scholar. I have no doubt that our students will benefit from her insight."
Klotman earned her undergraduate and medical degrees from Duke, and completed her internal medicine residency and an infectious diseases fellowship in the Department of Medicine at Duke. She then became assistant professor of Medicine at Duke before moving to the National Institutes of Health, where she was a member of the Public Health Service and worked in the laboratory of Robert C. Gallo, MD, who is best known for helping establish HIV as the infectious agent responsible for AIDS.
In 1994, Klotman joined the faculty at the Mount Sinai School of Medicine, where she was a tenured professor of Medicine and Microbiology and the Irene and Dr. Arthur M. Fishberg Chair in Infectious Diseases. At Mount Sinai, she also served as chief of the Division of Infectious Diseases and was co-director of Mount Sinai's Global Health and Emerging Pathogens Institute, a program designed to translate basic science discoveries into clinical therapeutics for newly emerging and re-emerging infectious diseases. In 2010, she returned to Duke as chair of the Department of Medicine.
Klotman is currently the editor of Annual Reviews of Medicine. She was elected to the National Academy of Medicine in 2014 and the American Academy of Arts and Sciences in 2021. She has served as councilor and president of the Association of American Physicians and served as president of the Association of Professors in Medicine.
Klotman is married to Paul Klotman, MD, who is CEO, president and executive dean of the Baylor School of Medicine in Houston.