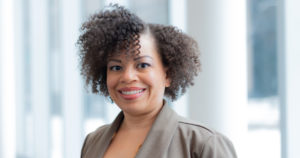 Andrea Hall, PhD, starts as executive director for research facilities effective February 1. Previously, she served as director of research safety on the Chicago campus and a biosafety officer. Hall is a specialist microbiologist in the National Registry of Certified Microbiologists and a certified biosafety professional.
Passionate about research safety, Hall says she is excited to begin her new role. Read a Q&A with Hall about her career path and why she has been with Northwestern for 15 years.
Tell me a little bit about your career background.
I earned my PhD in microbiology and immunology. I started my work at the University of Illinois Chicago and then my investigator moved to Northwestern, so I followed him here and finished my last year at Northwestern. Since then I have been focused on biosafety. When I started in 2006 I was the only person in the biological safety program. Now I manage a team of three others and oversee the institutional biosafety committee, which approves research with biological materials.
What inspired you to become involved in research safety?
Originally, I got into safety because I didn't want to open up my own lab. I was looking for positions and found a role in research safety as the assistant director of Biological Safety, which seemed like a perfect fit. I enjoy the day-to-day changes, working with others and collaborating on various types of research. I have a hand in lots of different research and I really enjoy that.
What are you most looking forward to in this new role?
I'm looking forward to working in such a rapidly changing environment. I've spent the last few years learning about laboratory design and construction. My husband is in the construction field too, so it's fun to discuss the challenges we both face. I find it rewarding to see these construction projects come to fruition and support the PIs with the tools they need to perform their research. I enjoy the challenge of balancing everything — the costs, needs and timing. I love project management and using creativity to accomplish our goal. I was involved in the design of the Simpson Querrey Biomedical Research Center and it's so rewarding to see the project completed. Walking into that building now I feel like I contributed to the process and it's amazing to see.
You have been at Northwestern for 15 years — why Northwestern?
Northwestern is a really great place to work. The benefits are great, and with three children I'm really looking forward to the tuition benefit. I also feel very proud to work at Northwestern. When you look at the research that comes from Northwestern, it's impactful. To see that I had a hand in that, I like the part I play in the research process. It just feels like home.