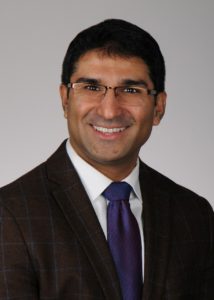 Satish N. Nadig, MD, PhD, the P.K. Baliga, MD, Chair in Solid Organ Transplantation, and director of the living donor and pediatric transplantation programs at the Medical University of South Carolina (MUSC), has been named the Edward G. Elcock Professor of Surgical Research and chief of Organ Transplantation in the Department of Surgery at Northwestern University Feinberg School of Medicine.
An internationally-recognized transplant surgeon, Nadig combines clinical expertise with a strong record of translational research in nanotherapeutic-based targeted drug delivery and immunoregulation for solid organ transplantation. At Northwestern, he will lead the Comprehensive Transplant Center and the Northwestern Memorial Hospital Solid Organ Abdominal Transplant Program.
"We conducted a national search to find the next leader for our Comprehensive Transplant Center and the Division of Organ Transplantation, and I am thrilled that we were able to recruit someone as talented and visionary as Dr. Nadig," said Hasan Alam, MD, chair and Loyal and Edith Davis Professor of Surgery. "His energy, academic brilliance, vision for the future and collaborative leadership style will be critically important in our ability to not only maintain our regional and national prominence, but to establish ourselves as an international trendsetter in transplant care."
Nadig earned his medical degree from MUSC in 2003, and after an internship at Beth Israel Deaconess Medical Center at Harvard Medical School, he studied transplant immunology at the University of Oxford, focusing on immunoregulation of transplant arteriosclerosis and earning a doctoral degree in 2008. He subsequently returned to Beth Israel Deaconess Medical Center, completing a residency in general surgery, and a fellowship in transplant surgery at the University of Michigan.
Nadig joined MUSC as an assistant professor in 2013 where he founded and directed the Lee Patterson Allen Transplant Immunobiology Laboratory and The Center for Immunobiologic Therapeutics. By 2019 he had risen to professor and was named the P.K. Baliga Endowed Chair in Solid Organ Transplantation.
Nadig is a busy clinician who focuses on adult and pediatric solid organ transplantation, mainly of the liver, kidney and pancreas. At MUSC, he directed the living donor kidney and the pediatric kidney and liver transplantation programs. He's also mentored dozens of medical trainees and graduate students, and served as associate vice chair of research for the Department of Surgery and the director of academic affairs for the Division of Transplant Surgery.
Nadig is also a productive scientist and entrepreneur, with many peer-reviewed publications, patents, review articles and book contributions. He has appeared in two TEDx talks and his research has been published in journals including the Journal of the American Medical Association (JAMA), the American Journal of Transplantation and Nature Medicine. He is also a leader in the American Society for Transplant Surgeons and is a member of the Surgical Biology Club for nationally recognized surgeon-scientists across all surgical disciplines.
"For decades, the Northwestern University Feinberg School of Medicine has been at the leading edge of organ transplantation. It is my distinct honor to lead this storied program into the next era of transplantation while fostering a culture of patient-centric innovation and maintaining the high standards set by my predecessors," Nadig said.
Nadig succeeds Joseph Leventhal, MD, PhD, the Fowler McCormick Professor of Surgery in the Division of Organ Transplantation, who led the division as interim chief. He also follows Daniela Ladner, MD, MPH, professor of Surgery in the Division of Organ Transplantation and of Medical Social Sciences, who served as interim director of the Comprehensive Transplant Center.