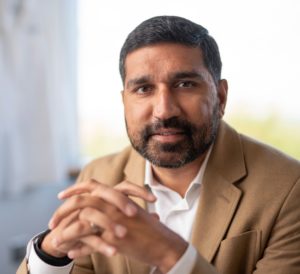 Sachin Patel, MD, PhD, the James G. Blakemore Professor of Psychiatry and Behavioral Sciences and director of the Division of General Psychiatry at Vanderbilt University Medical Center, has been named chair and Lizzie Gilman Professor of Psychiatry and Behavioral Sciences at Northwestern University Feinberg School of Medicine, and psychiatrist-in-chief at Northwestern Memorial Hospital's Norman and Ida Stone Institute of Psychiatry, effective January 2022.
An internationally recognized expert in the field of psychiatric neuroscience, Patel is a respected physician-scientist who combines a deep background in cellular, molecular and behavioral neuroscience with clinical expertise in psychiatry and addiction medicine.
"We are thrilled to welcome Sachin to Northwestern Medicine. Through his clinical work, scientific output and close involvement with both didactic and practice-level education, Patel embodies the tripartite mission of academic medicine," said Eric G. Neilson, MD, vice president for Medical Affairs and the Lewis Landsberg Dean. "I have no doubt that his vision for the future of the department will continue advancing Northwestern's incredible legacy of extraordinary patient care and scholarship."
Patel earned doctoral and medical degrees from the Medical College of Wisconsin in 2004 and 2006, respectively. He subsequently trained in clinical psychiatry at Vanderbilt where he also continued his research training in translational neuroscience. Upon completing his clinical training in 2010, he joined the faculty at Vanderbilt where he rose to the rank of tenured professor and director of the Division of General Psychiatry.
"Building on the legacy of previous leaders of the Stone Institute of Psychiatry, Dr. Patel brings more than a decade of leadership in the field of psychiatry to Northwestern Medicine," said Dean M. Harrison, president and CEO of Northwestern Memorial HealthCare. "We look forward to working with Dr. Patel to advance Northwestern Medicine's Patients First mission."
Patel's clinical activity focuses on treatment of patients with substance use disorders and co-occurring mental illnesses in inpatient and residential treatment settings. As director of General Psychiatry, he has managed clinical care, faculty development and scholarly productivity, and also overseen the general psychiatry residency training program.
Patel is also a prolific scientist: he has published many peer-reviewed papers, books, chapters and review articles in journals including Biological Psychiatry, Nature Neuroscience and Neuron, and amassed nearly 6,000 citations. He has consistently secured grant funding from the National Institutes of Health and numerous foundations for his work studying the biology and pathophysiology of the endocannabinoid system. He is a member of the American College of Neuropsychopharmacology and American Society for Clinical Investigation, some of the nation's most distinguished medical honor societies, and has also served on several national committees, study sections and as a reviewer for prestigious medical and scientific journals. Additionally, Patel has received The Presidential Early Career Award for Scientist and Engineers as well as the Chancellor's Research Award and Outstanding Teacher of the Year Award from Vanderbilt University.
"It is an honor and privilege to have been selected to lead the Department of Psychiatry and Behavioral Sciences at Northwestern University," said Patel. "In the context of the increasing recognition that mental health and wellbeing are core features of a thriving society, I am dedicated to advancing the departmental commitment to meet the behavioral health needs of the region, training future generations of psychiatrists, scholars and leaders, and accelerating innovative research in mental health and translational neuroscience."
Patel succeeds John Csernansky, MD, past chair of Psychiatry and Behavioral Sciences, who led the department for more than a decade during which its portfolio of research grants more than tripled, and the number of National Institutes of Health funding agencies that support its research expanded greatly.
John Franklin, MD, MSc, MA, associate dean for diversity, inclusion and student support, and professor of Psychiatry and Behavioral Sciences, Medical Education and Surgery in the Division of Organ Transplantation, has served as interim chair of Psychiatry and Behavioral Sciences since March 2020.
"We extend our deepest appreciation and gratitude to John Csernansky and John Franklin for their excellent leadership, and to Dimitri Krainc and the entire search committee for their outstanding work in identifying the next leader of the Department of Psychiatry and Behavioral Sciences," Neilson said.