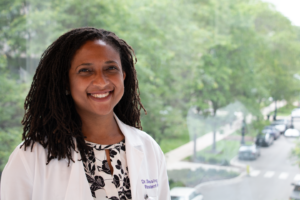 Blessing Aghaulor, MD, MPH, a former resident in internal medicine and current fellow in Gastroenterology and Hepatology, brings a breadth of experience to her work at Northwestern, where she has conducted research on transplant outcomes and worked at the ERASE trafficking clinic in Chicago.
Before Northwestern, Aghaulor attended medical school at the University of North Carolina and earned a Masters of Public Health from Harvard University, working at the United Nations in New York City as part of her master's thesis.
Read a Q&A with Aghaulor below.
Why did you choose Feinberg for residency?
I was drawn to Northwestern for several reasons. I knew that the residency program would provide me with excellent training and that its reputation would put me in a great position for getting into a top fellowship program. I also loved the people I met on my interview day including the other interviewees and the program director, Dr. Aashish Didwania. Finally, I fell in love with Chicago during residency interviews and knew I would love living here.
What are your medical or research interests?
During residency, my research was focused on improving the cardiovascular health of liver transplant recipients. Moving forward, I am interested in exploring issues surrounding organ allocation including the ethics of allocation policies, addressing health disparities in access and outcomes, and performing global comparative studies as a way to improve the allocation process here in the United States.
Can you tell me about your public health work?
While earning my MPH, I interned at the United Nations Population Fund (UNFPA) in New York City, where I worked on updating funding requests from countries supported by the UNFPA Maternal Health Thematic Fund. I also evaluated tools used to assess both maternal death surveillance and response, as well as the availability of facilities for emergency obstetric care used by countries supported by the UNFPA.
What has been your most rewarding experience at Northwestern?
During medical school, I worked with victims of sex trafficking, and at Northwestern, I was able to work as a general medicine consultant with Dr. Julia Geynisman-Tan, who spearheads the ERASE Trafficking Clinic here in Chicago.
How do you hope to alleviate health disparities in your work as a physician or future academic?
Aside from working towards increasing organ donation rates and access to transplantation among minority groups, I hope to focus on geographic disparities so those living in rural areas have equal access to care. Finally, I would love to address health disparities in medical training and be part of increasing minority representation among physicians.
Why did you choose to stay at Northwestern for your fellowship?
The faculty members in the Division of Gastroenterology and Hepatology are phenomenal teachers and the division is well-rounded, offering rotations in several subspecialties and boasting a robust liver transplantation program.
The Landsberg Society is eager to induct you as a new member upon your graduation from your residency. Do you have any thoughts and feelings about this?
I am honored to become a member of the Landsberg Society and I am excited to collaborate with such a talented and connected community!