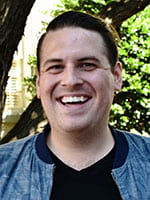 The Institute for Sexual and Gender Minority Health and Wellbeing (ISGMH) recently hosted a webinar featuring TJ Billard, PhD, assistant professor of Communications Studies at Northwestern and an affiliate faculty member at ISGMH, who discussed the politics of health misinformation and its impact on health and human rights for transgender individuals.
Billard, who is also executive director of the Center for Applied Transgender Studies, spoke as part of ISGMH's latest Current Issues in LGBTQ Health Lecture Series.
"The basic premise of health and human rights is not only that health is a human right, and that the deprivation of human rights negatively impacts health, but also that human rights and access to healthcare are deeply intertwined, as various social, cultural and political institutions structure access to healthcare and as healthcare systems play an important role in determining what rights people get access to. This relationship between health and human rights is especially relevant for transgender people locally," Billard said.
Billard discussed the most common topics of transgender health misinformation — definitional, accessibility, safety, cost, desistance and etiology — and gave examples of places that deny transgender individuals access to basic needs such as obtaining a driver's license. Reclassifying transgender identify as a concern pertaining to sexual health like reproductive care removes this barrier to accessing basic needs, according to Billard.
"Health and human rights serve as a conceptual bridge between health and politics," Billard said. "It's a lens that allows us to see how efforts to undermine transgender human rights are intimately tied to attempts to prevent access to transition-related care, and beyond that, it allows us to see how an agenda of misinformation simultaneously and in mutually reinforcing ways targets both transgender rights and transgender healthcare access.
Billard debunked common examples of transgender health misinformation that are currently being amplified by specific news outlets and social media accounts. According to Billard, this widespread dissemination of misinformation has attributed to increased anxiety and suicidal ideation among transgender individuals, decreased parental support for transgender youth care access and a decrease in healthcare providers willingness to offer gender affirming care.
Transgender health misinformation is also mobilized for political gain to motivate the rollback of transgender rights policies, according to Billard, citing the example of former President Donald Trump's past mobilization of misinformation regarding the cost of transition-related care to motivate his decision to ban transgender service members from serving in the U.S. armed forces.
Knowing what misinformation is out there, Billard said that it is responsibility of the Center for Applied Transgender Studies and others to ensure that truthful and evidence-based information fuels transgender rights policy-making, and that public discourse is rooted in that information.
"Health misinformation has impacts beyond health behavior. What we're looking at is how health misinformation intersects with political information in insidious ways that weasels into and motivates hostile political actions and prejudicial opinion formation. This is all to say that health misinformation is not just a public health problem, it's also a human rights problem," Billard said.
In celebration of Pride Month, ISGMH will also be hosting a LGBTQ+ Pride month panel on Friday, June 25 from 12 pm to 1 pm. For more information and to register, click here.