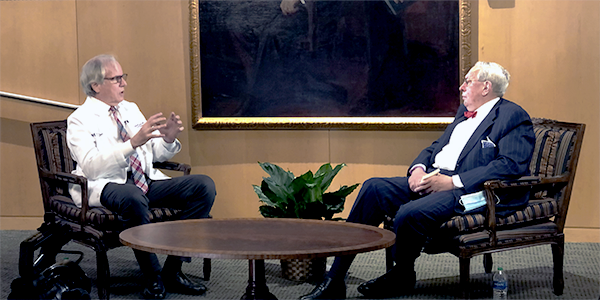 Listen to an episode of the Breakthroughs Podcast on this topic:
---
Feinberg recently hosted a webinar on COVID-19 vaccine safety, urging faculty, staff and students to get one of the currently approved COVID-19 vaccines. Vaccination against COVID-19 can help protect individuals, communities and facilitate a return to normal life, said Eric G. Neilson, MD, vice president for medical affairs and Lewis Landsberg Dean.
"If everyone were vaccinated, the virus would have nowhere to go and it would slowly disappear form the environment," said Neilson, who is also a professor of Medicine in the Division of Nephrology and Hypertension and of Cell and Developmental Biology. "That would be a wonderful event for the population around the world."
Neilson, along with Robert Murphy, MD, '81 '84 GME, the John Philip Phair Professor of Infectious Diseases and executive director of the Institute for Global Health, addressed fears about rare side effects including allergic reactions.
"It's very uncommon and it can be easily managed," Murphy said. "A few people out of millions have ended up in the hospital, and everybody has recovered."
The Pfizer and Moderna vaccines use messenger RNA (mRNA) to instruct the body to create COVID-19 antibodies without ever being exposed to the disease, and these two vaccines are the most potent according to study results. But the more conventional Johnson & Johnson vaccine is still remarkably effective, according to Murphy.
All vaccines currently approved under the emergency use authorization (EUA) are safe and effective, according to Murphy, though there is an extremely low incidence of blood clots in women under the age of 50 with the Johnson & Johnson vaccine — occurring in about one in 1,000,000 people..
"These vaccines are actually even better at inducing immunity than having COVID-19," Murphy said. "The immunity from the vaccines is very consistent and often better than having the disease itself."
Pfizer recently applied for full Food and Drug Administration approval for its COVID-19 vaccine, and other manufactures are expected to follow soon, according to Murphy.
For people who have been lucky to avoid contracting COVID-19, getting vaccinated now is the best way to avoid infection and long-term symptoms. While research is still ongoing, as many as 20 percent of people infected with COVID-19 report lingering symptoms six months after the infection is resolved. Some of these symptoms are minor, such as loss of smell, but others are quite serious, including memory loss, problems with concentration and even cardiovascular events.
"We don't really know the long-term complications because we've only been dealing with COVID for a little over a year," Murphy said. "There are many more of these 'long-haulers' than many people believe, and getting vaccinated is the best protection."
As the return to campus proceeds over the summer and into the fall, widespread vaccination is the best way for Feinberg community members to protect themselves, their families and their colleagues.
"There's a social responsibility to getting the vaccine, and while we think about what it means to us personally, it also means a great deal to public health," Neilson said. "We want to ensure that when we come back to campus, everybody is as healthy and safe as they can be."
View the archived recording of the webinar here.