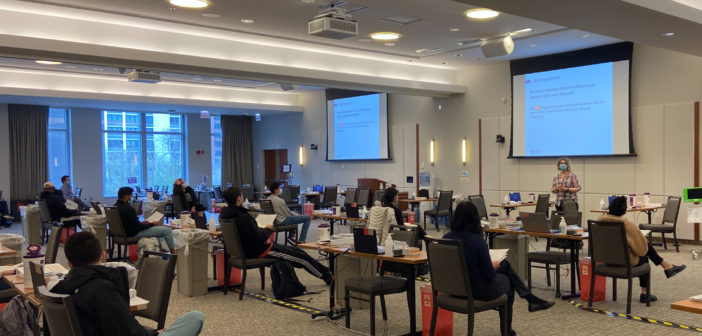 With the nationwide COVID-19 vaccination effort underway, many of Feinberg's medical students have volunteered to help administer vaccines to patients at Northwestern Medicine healthcare sites across Chicago.
"There is no doubt that Feinberg students have played critical roles during this pandemic, from COVID-19 outreach to obtaining PPE and now to vaccination. It is always exciting and gratifying to find opportunities where the health system and the medical education programs can work together to improve the care of patients. We are very fortunate to have an outstanding collaboration with our clinical partners," said Marianne Green, MD, the Raymond H. Curry, MD, Professor of Medical Education and vice dean for education.
Beginning in March, Feinberg offered students the opportunity to volunteer as student vaccinators in Northwestern Medicine's COVID-19 vaccination effort.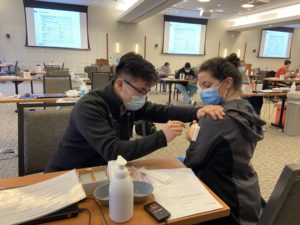 "The COVID-19 vaccination efforts have been an incredible joint effort between Northwestern Medicine and the Feinberg School of Medicine. The response from our students has been overwhelming and we are so impressed that over 100 students took time out of their busy schedules to train to be vaccinators.  We look forward to incorporating more members of the Feinberg community in future efforts and our students dedication to patients and the community is truly unparalleled," said Susan Goldsmith, MD, '08 GME, associate dean for student affairs.
Student volunteers attended vaccination training sessions coordinated by Feinberg leadership and Northwestern Memorial Hospital staff, preparing them for the vaccination efforts.
Those training sessions were led by Kristen Zambetti MBA, MSN, RN, CBC, program manager at Northwestern Memorial Hospital (NMH), and Leah Fanning, MSN, RNC-OB, professional development coordinator at NMH.
"The importance of medical students getting involved with COVID vaccine administration is that once they receive the appropriate training and supervision, they are able to do their part at the organization as well as volunteer in the community and be part of history. It also helps free up nurses and other providers to staff the units appropriately allowing for more assistance in the vaccine clinic with other trained roles," Fanning said.
Prior to training, students were required to review vaccination modules from the CDC. Training sessions lasted 90 minutes and 25 students were trained at a time, while adhering to social distancing guidelines. NMH nurses assisted students with the training, beginning with a video presentation covering information about Pfizer's COVID-19 vaccine, informed consent, documenting patient information in the electronic medical record and how to safely administer an intramuscular injection using specialized retractable needles used for vaccination.
Following the presentation, students practiced inputting patient information in Epic's electronic medical record system and went through a one-on-one skills validation tests with NMH nurses to evaluate needle safety and vaccination technique. Lastly, students were required to shadow a nurse as they administered vaccinations and administered vaccinations on their own under close supervision.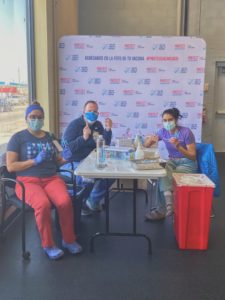 Feinberg's student-led Community Engagement and Advocacy Committee has also been deploying a monthly newsletter containing an updated list of local vaccination efforts, so students have one central place to look for opportunities to volunteer.
"All of my friends know that I love vaccines; they even send me pictures when they get their flu shots. So that being said, I was very excited when Feinberg announced that medical students were going to be trained to administer COVID-19 vaccines," said Casey Benzaken, a first-year student in the MD/MPH Program and student volunteer for Northwestern Medicine's COVID-19 vaccination efforts.
Benzaken's research interests in public health and vaccines motivated her to join the effort.  Currently, she is collaborating with Feinberg faculty to study perceptions about flu vaccines and to develop more convenient settings to receive the vaccine.
"Participating in the vaccine efforts has honestly been one of the most rewarding experiences of my life. It is so much fun to see so many people excited about vaccines, since usually I am the only one who feels like that. It is almost even more fulfilling to talk to people who are nervous about getting the COVID-19 vaccine," Benzaken said.
As a first-year medical student, Benzaken said having the opportunity to practice administering injections with retractable needles and charting patient information in EPIC, both of which she has never done before, helped her feel confident in administering vaccines to patients.
So far, Benzaken has completed five vaccination shifts at Prentice Women's Hospital and the Northwestern University Health Services Clinic at Northwestern's Evanston campus.
"The NMH employees who trained us gave great advice, so I felt very prepared going into my first shift. I definitely want to give a big thank you to everyone who worked on the training sessions," Benzaken said.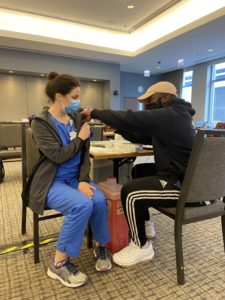 Tulsi Patel, who is also first-year student in the MD/MPH program, was excited to give back to the city she grew in up by volunteering as a student vaccinator.
Patel completed shifts at Prentice and at Northwestern's Evanston campus, and said she hopes to find opportunities to volunteer at federally qualified health centers and in areas of the city with populations that have been disproportionately affected by the pandemic.
"Whenever I have any questions, the nurses, pharmacists and administrators were all so responsive and able to help right away, and it's one of the things I love about vaccinating — it's an opportunity to work on interprofessional teams and appreciate everyone's joint efforts to keep this a well-oiled machine," Patel said.
Fourth-year medical student Dan Im said he wanted to get involved with the vaccination efforts after completing an elective rotation, where he helped take care of patients with COVID-19 at Northwestern Memorial Hospital.
"I witnessed first-hand how COVID-19 can take away a lot from the life of patients and their family. It wasn't just the physical illness caused but uncertainty in prognosis, future ramifications and social impact of the disease that impacted their life the most. To continue my part in fighting the pandemic, I volunteered to be a COVID-19 vaccinator to prevent our vulnerable patients from contracting COVID-19," Im said.
Since having undergone vaccination training, Im has completed five vaccination shifts at Northwestern Memorial Hospital so far and plans to continue.
"The past year has been really challenging, and the vaccination signified the light at the end of the tunnel. It's rare to see patients being happy about coming to a hospital, but these people were a rare exception," Im said.