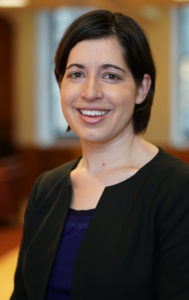 Karen Gutzman, MSLS, MA, head of research assessment and communications at the Galter Health Sciences Library and Learning Center, has received the Estelle Brodman Award for Academic Medical Librarian of the Year.
The Brodman Award is bestowed by the Medical Library Association (MLA), a global, nonprofit educational organization, with a membership of more than 400 institutions and 3,000 professionals in the health information field.
"I am honored to receive such an important award in my profession and I feel incredibly grateful for the recognition of my work," said Gutzman, also the leader of the Metrics and Impact Core at Galter. "I am enduringly thankful for my network of inspiring and supportive colleagues, and the engaging and talented leadership of Galter Director Kristi Holmes and Deputy Director Mark Berendsen."
The MLA Academic Medical Librarian of the Year Award is named in honor of Estelle Brodman, library director emerita of the Washington University School of Medicine Becker Medical Library. Brodman was a leader and scholar of the medical library profession, serving as MLA president and on the MLA Board of Directors. The award was established in 1986 to recognize an academic medical librarian at mid-career level who demonstrates significant achievement, potential for leadership, and continuing excellence.
"Karen is a creative and thoughtful innovator with a real gift for nurturing others in the profession through teaching and community building," said Kristi Holmes, PhD, professor of Preventive Medicine and of Medical Education. "She is the consummate collaborator and pushes the boundaries of traditional librarianship with her unique vision and tireless drive. I am thrilled that Karen's work at Northwestern University Feinberg School of Medicine and her impact on the profession have been recognized in such a meaningful manner."
Gutzman was recruited to Feinberg in 2014 to launch and lead a new program at Galter Library for issues related to scholarly dissemination and research impact, grant reporting and renewals, rankings, and unique scholarly identifiers. In the seven years since, she has been continually recognized for her forward thinking and dedication to Galter services.
In 2017, she was named a "Rock Star" by the National Library of Medicine, and in 2019 she was recognized by MLA with the Hypothesis Research Training Quality Award for her webinar "8 Tips for Using Metrics in Research Evaluation." That same year she was promoted to head of the Research Assessment and Communications Department at Galter, a new Department launched in response to her successful work in this area. The Department supports faculty by providing expertise in bibliometrics and alternative metrics, information visualization for research assessment, and advisory services for increasing the visibility and accessibility of research in a digital environment.
"Karen's contributions to the medical school and Northwestern University Clinical and Translational Sciences (NUCATS) Institute are remarkable. She is an incredible partner and colleague and her work exemplifies the bright future for medical libraries," said Donald Lloyd-Jones, MD, ScM, the Eileen M. Foell Professor and chair of Preventive Medicine. "Under Karen's leadership, the Metrics and Impact Core generates reports that allow departments, centers, research teams, and whole studies to assess the impact they have made in the medical literature, and on guidelines that direct clinical practice. Karen has also helped many investigators better tell their personal impact story — through biosketch support — which in turn has a direct impact on future research funding from places like NIH."
Gutzman has played an active role in numerous NUCATS renewal applications, having performed several in-depth impact analyses that were used to help demonstrate the breadth and scope of NUCATS locally, nationally across the Clinical and Translational Science Award (CTSA) consortium, and globally. Galter is the only health services library situated within a CTSA hub.
"Karen and her team are an indelible resource to the NUCATS Institute and its members," said Richard D'Aquila, MD, NUCATS director, Northwestern University associate vice president of research, and the Howard Taylor Ricketts, MD, Professor of Medicine. "Her ability to think critically and creatively to work through challenges, allowing faculty to better communicate their research impact, has helped propel Feinberg's research enterprise to greater national prominence."
Gutzman is an active contributor to several professional organizations and is chair of the MLA Scholarly Communications Caucus, having also served on the National Program Committee for MLA 2020. At Northwestern, she is involved in a number of high-impact projects, including the coordination of  University-wide Clarivate InCites training activities. She also leads Galter Library's communication and outreach efforts related to the upcoming migration of DigitalHub, Feinberg's institutional repository, to a new platform.
"When I started at Northwestern, I remember being in awe of and slightly intimidated by the immense digital collection and breadth of services offered by librarians at Galter to support patient care, innovative research, and impactful scholarship by our faculty, staff, and students," Gutzman said. "Along the way, I have been able to take advantage of the incredible professional development opportunities offered by Northwestern, and I've grown my skills in ways I never imagined, developing and strengthening skills in advanced data analysis, information visualization, machine learning, and topic modeling."
After earning her undergraduate degree in biological sciences at South Dakota State University, Gutzman became a registered EMT-paramedic, which eventually led her to working in children's health research with the National Children's Study Center. Before coming to Northwestern, Gutzman worked for two years as a fellow with the U.S. National Library of Medicine. She spent one year on the National Institutes of Health campus learning more about their services and working on projects related to information standards. Her second year was spent at Becker Medical Library at Washington University in St. Louis, learning more about research impact assessment and evaluation, which ultimately influenced her decision to come to Galter.
"I have the privilege of receiving this award because of the supportive environment and career guidance given to me by my mentors and colleagues — including Mao Soulakis, Annette Mendoza, and Josh Elder," Gutzman said. "No one is an island, and I hope that I can help provide similar opportunities for other librarians and those interested in our profession."