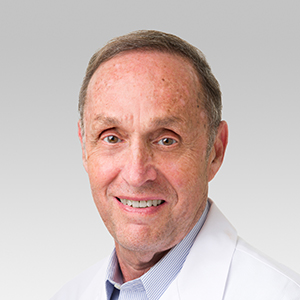 Vitrectomy surgery and intravitreal injections showed similar effectiveness in improving overall vision for patients with advanced diabetic retinopathy, according to results from a clinical trial published in JAMA. Lee Jampol, MD, the Louis Feinberg, MD, Professor of Ophthalmology, was a co-author of the study.
Diabetic retinopathy, a complication of diabetes, results in thickened and damaged blood vessels in the retina, the thin layer of tissue located in the back of the eye that converts light into neural signals sent to the brain.
Initially, diabetic retinopathy may cause no symptoms at all, but can quickly develop into proliferative diabetic retinopathy (PDR) and cause permanent blindness if left untreated.
Current treatments include vitrectomy surgery and laser treatments or intravitreal injections of anti-VEGF medications into the eye, which can help slow or stop damage from abnormal blood vessels and decelerate vision loss.
For patients with PDR or a significant vitreous bleed, either surgery or intravitreal injections are currently the two most effective treatment options. However, there has been virtually no comparative effectiveness research done for these treatments.
"The question that remains is: if you get a large hemorrhage in your eye from PDR, which is the better treatment?" Jampol said.
In the current multi-center trial, the investigators enrolled 205 patients from across the U.S. with type 1 or type 2 diabetes who had vison loss due to PDR. Patients were then randomized to receive either monthly eye injections of an anti-VEGF medication called aflibercept or undergo vitrectomy surgery. Investigators then performed a two-year follow-up with both groups.
Both groups showed improvement in their vision by the end of the trial period. Notably, patients who received vitrectomy surgery saw quicker improvement in their vision during the first few months of the trial period compared to the anti-VEGF medication group, but both groups showed similar rates of improvement in vision overall.
Furthermore, choosing the appropriate treatment option, according to Jampol, is dependent upon a variety of factors, such as whether the patient is well enough to undergo safely surgery or if the patient's occupation requires them to get their vision back quicker.
"In conclusion, they're both excellent treatments and there are advantages in some situations between choosing one or the other," Jampol said.
This work was supported by the National Eye Institute, the National Institute of Diabetes and Digestive and Kidney Diseases, the National Institutes of Health, and the U.S. Department of Health and Human Services.