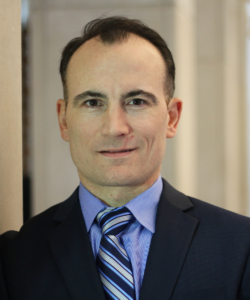 In the face of the greatest public health crisis in a century, Feinberg's Institute for Public Health and Medicine (IPHAM) mobilized with leading-edge science, new grant programs for community partners and a series of informational webinars.
Ronald Ackermann, MD, MPH, director of IPHAM and senior associate dean for Public Health, delivered IPHAM's annual "State of the Institute" address, where he outlined the institute's response to the twin pandemics — COVID-19 and racial injustice — that captured the attention of public health advocates during 2020. These issues are inextricably linked, Ackermann said, requiring an unprecedented response.
"We recognize the unequal burden of COVID on different neighborhoods and populations in the city of Chicago," said Ackermann, who is also a professor of Medicine in the Divisions of General Internal Medicine and Geriatrics and Endocrinology, and a professor of Medical Social Sciences. "A lot of our work is not just in science, but service and volunteerism: Anything we can do, as an academic institution, to help the community get through this pandemic."
From the beginning of the pandemic, IPHAM members have made important contributions, including contact tracing to find the first person-to-person transmission of COVID-19 in the U.S. Flexibility was key, as a group led by Michael Wolf, PhD, '02 MPH, '02 GME, the James R. Webster, Jr., Professor of Medicine and associate vice chair for Research in the Department of Medicine, and Stacy Cooper Bailey PhD, MPH, associate professor of Medicine in the Division of General Internal Medicine and Geriatrics, quickly adapted an ongoing study to collect new information about attitudes related to COVID-19, publishing their findings in the Annals of Internal Medicine.
"These people did something really timely, based on structures they already had in place," Ackermann said. "Many of us at IPHAM have tried to adapt what we're already doing to be helpful to our society or community in addressing COVID."
Even during the pandemic, important public health science continues apace: IPHAM's investigative portfolio grew to over $211 million this year, a reflection of the growth in public and population health science at Feinberg.
Beyond research science, IPHAM centers and programs have distributed almost 30 grants to community partners, providing those organizations with tools and resources to collect data on the impact of COVID-19 or to address the impact of the pandemic locally. This community-centered approach dovetails with the "COVID-1619 project," an effort to grapple with centuries of systemic racism in the U.S and how COVID-19 is exacerbating those inequalities.
One outgrowth of that effort is new courses on topics such as addressing and mitigating entrenched racism, an example of how IPHAM is striving to train students in the layered disparities that impact health, Ackermann said.
"The issue of systemic racism is intolerable," Ackermann said. "It's a public health crisis, and we are on a path to figure out how to fix the systemic policies that undergird the inequities we see."
In addition, graduate training programs under IPHAM's umbrella, such as the Master of Public Health and Master of Science in Health Services and Outcomes Research programs, swelled to unprecedented size with their highest-ever enrollment in 2020. Ackermann noted that IPHAM's education mission doesn't stop at graduation: the institute rolled out a new seminar series that explored different career paths in public health with a focus on community-oriented practice.
Many people throughout the U.S. have been experiencing a public health crisis for hundreds of years, while the rest have been embroiled by one since March, Ackermann said. While nothing is back to normal yet, and with the road ahead remaining unclear, IPHAM is dedicated to its mission of public health science, training and education — a mission that at the end of the day, seeks to benefit the world and not just the university.
"We exist as an institute, but we come together and collaborate not just at Northwestern but out in the real world," Ackermann said. "We are proud of our work so far, but with so many problems unsolved, it's an honor to continue this work and strive to find better ways to address these problems."