Sarki Abdulkadir, MD, PhD, the John T. Grayhack, MD, Professor of Urological Research and vice chair for research in the Department of Urology, has been named the winner of the 2020 Tripartite Legacy Faculty Prize in Translational Science and Education.
"Northwestern has been transformative in my career," said Abdulkadir, who is also a professor of Pathology and a member of the Robert H. Lurie Comprehensive Cancer Center of Northwestern University. "One of the things I really like is the spirit of collaboration. Some of the students that come into my lab have expertise I don't have, so I can learn from them, and together we can do things that are better than we can do individually."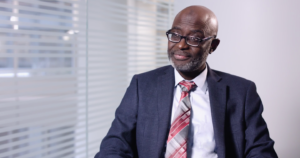 Abdulkadir's scientific investigation focuses on the molecular pathways that drive prostate cancer, and he's made landmark discoveries in how genetic mutations lead to cellular dysfunction that allow prostate cancers to form and grow. Along with his collaborators, Abdulkadir has identified mutated proteins that that help initiate prostate cancer, and designed small molecules to block these cancer-causing proteins.
Abdulkadir has authored more than 60 peer-reviewed publications and is currently the principal investigator on three National Institutes of Health grants; two R01 awards and a P50 award. The latter is part of the Specialized Program of Research Excellence (SPORE) in prostate cancer at the Lurie Cancer Center, a five-year $11 million grant that aims to take basic science research from bench to bedside in just five years.
Projects like these underscore Abdulkadir's intense focus on team science, according to Edward Schaeffer, MD, PhD, chair and the Edmund Andrews Professor of Urology.
"The environment at Northwestern University is a reflection of who Sarki is; his personality is magnetic, his command of the literature is outstanding and his collaboration is what really makes NU such an amazing environment for people to come and study," Schaeffer said. "We're very pleased that he's part of our department and part of our local environment, and he contributes to the scientific and intellectual environment that is the Northwestern University Feinberg School of Medicine."
This collaborative spirit is perhaps best exemplified by Abdulkadir's commitment to mentorship and students trained by Abdulkadir have gone on to make striking discoveries of their own. Abdulkadir mentee Jonathan Anker, '20 MD, '18 PhD, graduate of the Driskill Graduate Training Program in Life Sciences, recently discovered that a unique bacterial strain isolated from a patient with pelvic pain may represent a promising path to treating prostate cancer with immunotherapy.
"Working with him and being able to talk to him, he comes across as very genuine in his love for research, wanting to talk about the project and work through the basic science," Anker said.
Abdulkadir earned combined undergraduate and medical degrees from Ahmadu Bello University in Zaria, Nigeria, before earning a PhD in immunology from Johns Hopkins University in Baltimore as a fellow of the Howard Hughes Medical Institute.
He undertook a combined clinical pathology residency and postdoctoral fellowship at Washington University School of Medicine in St. Louis, and served as a faculty member in pathology at the University of Alabama in Birmingham and at Vanderbilt before coming to Northwestern University Feinberg School of Medicine in 2013.