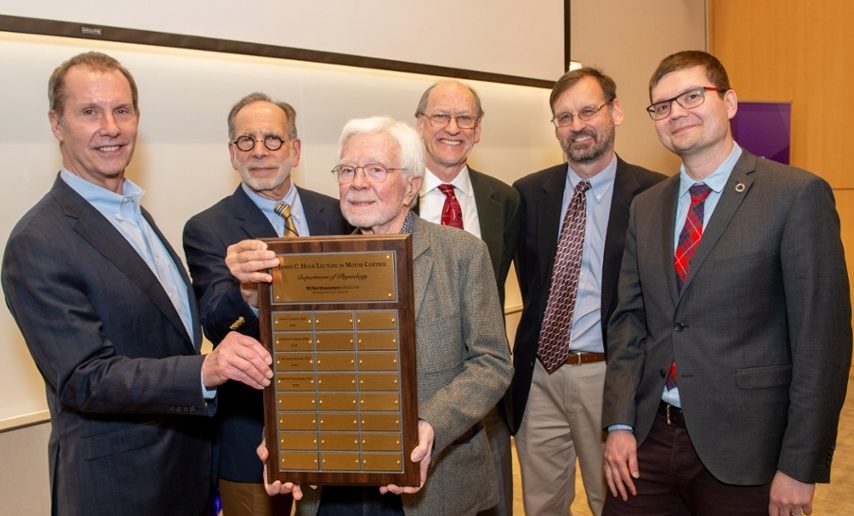 James Houk, PhD, former chair and professor of Physiology whose Feinberg career spanned more than 40 years, passed away on June 11.
"Jim transformed the department into an internationally recognized center for the study of neural control of movement," said D. James Surmeier, PhD, chair and Nathan Smith Davis Professor of Physiology. "The department today is built on the foundation Jim created."
Houk joined Feinberg in 1978 as the chair of Physiology, a role he held for 23 years. Early in his career, he investigated muscle activation through pathways in the spinal cord, including one 1976 paper that has more than 1,000 citations and continues to be cited today.
In his role as chair, Houk recruited a mix of theoretically and experimentally oriented scientists, a nurturing and dynamic environment that led to breakthroughs in understanding how different brain regions work together to control purposeful movement. This environment was a major draw for Surmeier, who joined the department in 1998 and was appointed chair in 2001.
"We've expanded into other areas, but always with the goal Jim had of creating an interactive and vibrant intellectual environment," Surmeier said. "He led by example and didn't ask faculty to do something he hadn't done himself. I've tried to do the same."
After stepping down from the chair of Physiology, Houk branched out to make a series of discoveries about motor control and learning, focusing on the interplay between the basal ganglia, motor cortex and cerebellum.
"He approached all of this work with the mindset and tools of an engineer, being at the forefront of a more quantitative approach to biological problems," said Lee Miller, PhD, professor of Physiology and of Physical Medicine and Rehabilitation, and former member of the Houk laboratory. "Very few other neuroscientists have achieved this breadth of interest and scientific work."
Houk earned his doctorate from Harvard University in 1966, and completed postdoctoral fellowships at Harvard Medical School and Faculte de Medecine in France.
In 2020, Houk and his wife Antoinette made a bequest to establish the Dr. James Houk Graduate Fellowship in Physiology. Their gift provides funding to outstanding graduate students studying neurophysiology so they can pursue science at Northwestern and train to become the next generation of leaders in the field.
Those wishing to make a gift in memory of Houk have been asked by his family to support the graduate fellowship fund.
Houk is survived by his wife Antoinette and their children Philip, Nadia and Peter.