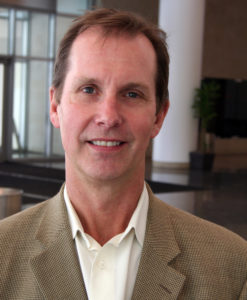 D. James Surmeier, PhD, chair and the Nathan Smith Davis Professor of Physiology, has received the National Institute of Neurological Disorders and Stroke's Javits Neuroscience Investigator Award for demonstrated scientific excellence and productivity in neurological research. This is the second time Surmeier has received the award, which recognizes investigators with a distinguished record of substantial contributions to neurological science.
"The award is an important recognition of our team's dedication, hard work, and creativity. Graduate students, post-doctoral fellows, research faculty and staff have made essential contributions to the body of work that served as the foundation for this award application. The award is also a recognition of the outstanding scientific environment at Northwestern University," Surmeier said.
The Javits Neuroscience Investigator Award is a conditional seven-year R37 research grant awarded every year to a handful of scientists who are selected by the National Advisory Neurological Disorders and Stroke Council. The award is initially given over a period of four years, after which, based on an administrative review, an additional project funding for another three years may be awarded to the recipient.
Over the past few decades, Surmeier's research has explored how neurons in the brain's striatum — a cluster of neurons in the subcortical basal ganglia— and its connections with other brain regions are shaped by dopamine and, ultimately, how its loss in Parkinson's disease induces the remodeling of this network.
The award will support Surmeier's ongoing research focused on how brain circuitry is altered in Parkinson's disease, which Surmeier said has also been made possible with support from the Feinberg community.
"Our colleagues at Feinberg have provided the kind of intellectual environment necessary for rigorous and innovative scientific work. Another key factor has been the imaging resources available to us at Northwestern University and Feinberg; these tools have allowed us to see how brain structure changes in Parkinson's disease, providing a 'roadmap' for our physiological studies," Surmeier said.
With this research, Surmeier's goal is to better understand how brain circuitry changes with levodopa drug therapy in mouse models of advanced Parkinson's disease. The therapy, which leads to unwanted side effects such as dyskinesias, or unwanted, purposeless movement, is one of few available therapeutic strategies for patients with advanced Parkinson's disease, other than surgery. Surmeier hopes that this research could help in the development of new therapeutic options.
 "Our early work has led us to the unexpected hypothesis that striatal interneurons are playing a crucial role in the adaptations underlying dyskinesia. This insight holds a great deal of translational promise," Surmeier said. "As our understanding deepens, we are confident that druggable targets will be identified that could result in new therapeutic options for Parkinson's disease patients."
Surmeier received his PhD in physiology and biophysics from the University of Washington in 1983. In 1998, he joined Feinberg's Department of Physiology and became chair of the department in 2001. His overall research focus is exploring the underlying mechanisms behind Parkinson's disease, Huntington's disease and chronic pain through utilizing a combination of cutting-edge approaches, including electrophysiological, optical, genetic and behavioral methods.
In October 1983, the congress established the Senator Jacob Javits Awards in the Neurosciences to honor the late Senator Jacob Javits (R-NY), who was diagnosed with ALS and was an advocate for the research of brain and nervous system disorders. Since then, the National Institute of Neurological Disorders and Stroke has since given more than 600 of the awards.
The National Institute of Neurological Disorders, part of the National Institutes of Health, conducts and funds research on brain and nervous system disorders with a mission to reduce the burden of neurological diseases.