To help support and develop the next generation of physician-scientists, Northwestern University Feinberg School of Medicine has established the Thomas Starzl Academy, and named Elizabeth M. McNally, MD, PhD, the Elizabeth J. Ward Professor of Genetic Medicine, its inaugural director.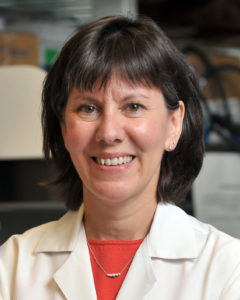 "With the establishment of the Starzl Academy, we hope to inspire and support trainees to develop into tomorrow's pre-eminent physician-scientists," McNally said.
The academy will focus on the unique postgraduate training needs of physician-scientist trainees, and will provide in-depth mentoring and formalized programming that will support both career development and trainee research agendas.
The Starzl Academy will serve as an umbrella over the numerous individual and highly accomplished Physician-Scientist Training Programs (PSTP) that already exist across many Northwestern Medicine clinical departments, and will build a community that connects each trainee to the investigative component of their training throughout their time at Northwestern.
"Our goal is to equip our outstanding Northwestern Medicine trainees with an expanded and refined set of skills.  Ultimately, it is these skills that will promote them as leaders and bring novel and impactful scientific advances and technologies to the increasingly complex care of today's patients," McNally said.
McNally is a professor of Biochemistry & Molecular Genetics and of Medicine in the Division of Cardiology, and is the also director of the Center for Genetic Medicine.
A key aspect of the Starzl Academy approach to training physician-scientists will be to encourage multi-disciplinary interaction and collaboration. Some of the activities and programs that the academy will organize include seminars, grant writing support, career development, research funding assistance and mentorship.
Though not all residents and fellows will choose an investigation-intensive path, McNally said, the Starzl Academy plans to encourage all trainees to incorporate scientific research into their time at Northwestern.  The Starzl Academy will draw on the strengths of Northwestern and the Feinberg School of Medicine, to bring new discovery to improve human health.
The academy is named for Thomas Earl Starzl, MD, PhD (1926–2017), an eminent transplant surgeon, mentor and immunologist. Starzl attended Northwestern University, earning his master's degree in anatomy in 1950 and both a PhD in neurophysiology and an MD with distinction in 1952. He served on the medical school's faculty from 1958 to 1961.
The Starzl Academy web site will be a resource for all trainees interested in expanding their knowledge base, finding resources on campus, and connecting with a community of collaborators and potential mentors. The site includes resources including a self-assessment, information on finding funding, conducting studies, publishing findings, and planning a career in research, as well as much more.
The Starzl Academy board is made up of McNally, Eric G. Neilson, MD, vice president for Medical Affairs and Lewis Landsberg Dean; Douglas Vaughan, MD, chair and Irving S. Cutter Professor of Medicine; Maciej (Matt) Lesniak, MD, chair and Michael J. Marchese Professor of Neurological Surgery;  Peng Ji, MD, PhD, associate professor of Pathology; Joshua Meeks, MD, PhD, assistant professor of Urology and Biochemistry and Molecular Genetics; Puneet Opal, MD, PhD, professor of Neurology in the Division of Movement Disorders; Benjamin Singer, MD, assistant professor of Medicine in the Division of Pulmonary and Critical Care; Colby Thaxton, MD, PhD, associate professor of Urology; and Lynn Yee, MD, MPH, assistant professor of Obstetrics and Gynecology in the Division of Maternal Fetal Medicine.