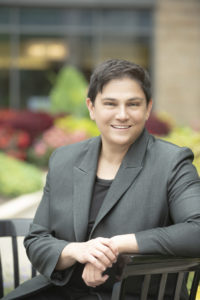 Tara Lagu, MD, MPH, associate director of the Institute for Healthcare Delivery and Population Science and associate professor in the Division of Hospital Medicine at Baystate Medical Center and the University of Massachusetts Medical School, has been named director of the Center for Health Services and Outcomes, as part of the Institute of Public Health and Medicine (IPHAM). She will also serve as a hospitalist at Northwestern Memorial Hospital.
"I am incredibly excited to join IPHAM as the director for the Center for Health Services and Outcomes Research," Lagu said. "The vast resources and talent at Northwestern offer an unparalleled opportunity to build bridges, increase collaboration, foster multidisciplinary research and bring together health services researchers, health policy researchers and quality improvement-oriented faculty across Feinberg."
Lagu earned her medical doctorate and a master's in public health at the Yale School of Medicine in 2002. She then completed a general internal medicine residency at Brown University's Rhode Island Hospital in 2005 and a Robert Wood Johnson Clinical Scholar fellowship at the University of Pennsylvania's Perelman School of Medicine in 2008, after which she joined Baystate Health as an assistant professor, academic hospitalist and research scientist.
In 2013, she received a five-year career development award from the National Institutes of Health's National Heart, Lung, and Blood Institute to study optimal clinical strategies for improving quality of care and outcomes for critically ill patients with heart failure. That same year, she was inspired to dedicate a portion of her research to gaps in care access for patients with disabilities, which led to a widely cited study that reported that 20 percent of outpatient physicians nationwide would refuse to see a patient who uses a wheelchair.
Although her previous research was focused primarily on the quality and value of care for hospitalized patients, her passion for improving outcomes for vulnerable populations of patients, including patients with disabilities and patients with heart failure, has led her to study both inpatient and outpatient strategies that could improve care for these groups.
Currently, Lagu is the principal investigator of two R01 grants from the National Heart, Lung and Blood Institute. The first aims to understand strategies used by successful, accountable care organizations as that aim to reduce admissions and days in nursing homes for patients with heart failure. The second aims to identify implementation strategies that increase the use of cardiac rehabilitation among patients with heart failure.
She is board-certified in internal medicine and a licensed pharmacist, has published more than 120 peer-reviewed manuscripts in high-impact journals and is a senior deputy editor for the Journal of Hospital Medicine.
Lagu will succeed Ron Ackermann, MD, MPH, director of IPHAM and senior associate dean for public health, who has served as interim director of the Center for Health Services and Outcomes Research.
"We consider ourselves very fortunate to have successfully recruited Tara, as she is a dynamic individual with expertise spanning hospital outcomes research, patient safety, access and quality," Ackermann said. "She's exceptionally collaborative, is a dedicated mentor and brings an engaging style of leadership. We look forward to working with her."