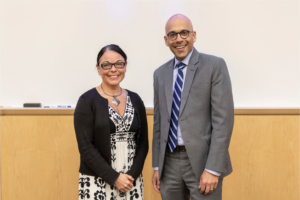 The Medical Faculty Council (MFC) honored the 2020 Mentor of the Year Award recipients at a workshop on Tuesday, March 10, where awardees discussed their mentorship experience and takeaways during a recent workshop in the Robert H. Lurie Medical Research Center's Baldwin Auditorium.
This year's recipients were Karl Bilimoria, MD, MS, '10 GME, vice chair for quality in the Department of Surgery, and Melissa Simon, MD, MPH, '06 GME, vice chair for clinical research in the Department of Obstetrics and Gynecology and director of the Center for Health Equity Transformation in the Institute for Public Health and Medicine (IPHAM).
Bilimoria and Simon will receive their awards at the Mentor of the Year Award ceremony during the 16th annual Lewis Landsberg Research Day.
"I think we can all agree that having a mentor is invaluable for navigating your career and your life," said Emily J Rogalski, PhD, president of the MFC and professor of Psychiatry and Behavioral Sciences.
Never Stop Learning
Bilimoria was nominated by Anthony Yang, '02 MD, '09 GME, associate professor of Surgery in Division of Surgical Oncology, who also introduced Bilimoria at the workshop.
"Dr. Bilimoria's proactive support in my career development is extraordinary to me and in regards to those he currently mentors, I can attest that they feel the same," Yang said.
Bilimoria joined Feinberg's faculty in 2003. He earned his medical degree in 2003 from Indiana University School of Medicine and completed his residency in general surgery at Northwestern University's McGaw Medical Center. He has completed fellowships at the MD Anderson Cancer Center, the American College of Surgeons and the National Institutes of Health and holds a master's degree in clinical investigation from Feinberg.
Bilmoria is the vice chair for quality in the Department of Surgery, the John B. Murphy Professor of Surgery and the director of the Surgical Outcomes and Quality Improvement Center of Northwestern University (SOQIC), a center of 50 faculty and staff focused on national, regional and local quality improvement research and practical initiatives. He is also vice president for quality and clinical integration for the Northwestern Medicine health system and a member of the Robert H. Lurie Comprehensive Cancer Center of Northwestern University.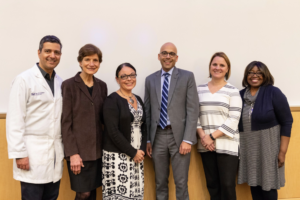 He is currently the President of the Association for Academic Surgery, has published more than 350 peer-reviewed publications and is widely recognized as an expert in healthcare quality and delivery improvement.
During his presentation, Bilimoria discussed the importance of mentorship for career development and gave thanks to numerous mentors he's had throughout his career.
"We all stand on the shoulders of tremendous mentors," Bilimoria said. "Pretty much everywhere I've trained and have been, there've been people who have really supported me."
Bilimoria also shared that finding success in your mentees success and giving credit where credit is due is an integral part to being an effective mentor.
"I think Steve Jobs was right in saying that it doesn't make sense to collaborate with smart people and to tell them what to do, but rather that we should collaborate with smart people so they can tell us what to do. I feel this way and about my mentees; it's always a struggle. I don't always get it right and I'm continuing to work on it," Bilimoria said.
Lifting Up Others  
Simon was nominated and introduced at the workshop by Betina Yanez, PhD, '13 GME, associate professor of Medical Social Sciences.
"Having worked with Melissa for several years now, I have seen and experienced how her mentorship has made her mentees productive scientists and thoughtful scholars and practitioners… she continues to be a champion for health equity, a role model for so many students, especially among diverse and underrepresented backgrounds, and an enthusiastic leader," Yanez said.
Simon earned a master's in public health at the University of Illinois at Chicago in 1996 and earned her medical degree at Rush Medical College at Rush University in 2000. She then completed her residency in obstetrics and gynecology at Yale-New Haven Hospital and a fellowship in family planning at Northwestern University's McGaw Medical Center.
At Northwestern, Simon is the George H. Gardner Professor of Clinical Gynecology, vice chair of clinical research in the Department of Obstetrics and Gynecology, founder and director of the Center for Health Equity Transformation and the Chicago Cancer Health Equity Collaborative, a Northwestern Medicine physician, and co-program leader for cancer control and survivorship and outreach and engagement at the Lurie Cancer Center.
She is a member of the United States Preventive Services Task Force and the National Academy of Medicine's Roundtable on the Promotion of Health Equity, and has published more than 200 peer-reviewed publications.
During her presentation, Simon discussed how diversity in mentorship and the workforce is key for personal and professional development, especially for those who identify as underrepresented minorities.
"When you have a faculty member like me who is an underrepresented minority and also when you pull people with you through the professional pipeline, it's about seeing. If you can see it, you have a better chance of being it," Simon said.
Simon also stressed the importance of supporting mentees individuals needs in order to help them achieve their goals, supporting her philosophy with an excerpt from the book House on Mango Street by Sandra Cisneros.
"Understanding the experiences of many of my mentees and the experiences they have gone through and are going through makes my work and this award even more important and impactful. It makes me want to mentor even more so that the workforce can be diverse," Simon said. "I still have some climbing to do because I'm lifting a whole bunch of people with me — I've got to climb so they can get higher."