Immersive experiences, engaging plenaries punctuate "data science for everybody" event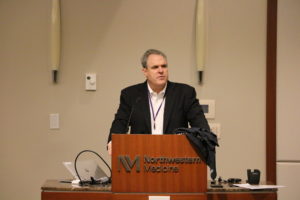 Good Decision-making often revolves around available data. For Stanford's Nigam Shah, MBBS, PhD, associate professor of Medicine in the Division of Biomedical Informatics, developing methods to analyze large unstructured datasets holds the potential to change how data-driven medicine is practiced.
"Clinical guidelines don't always suffice, and when they fail, data may have the answer," said Shah, assistant director of the Stanford's Center for Biomedical Informatics Research, during the morning plenary of Biomedical Data Science Day (BDSD). "It's an important consideration, because I suspect most of you in this room ultimately want to use data to help patient populations."
Shah's presentation was one of nearly 40 immersive, and often interactive workshops and talks during BDSD 2020, held February 4 in Chicago. The event was hosted by the Northwestern University Clinical and Translational Sciences (NUCATS) Institute and sponsored by Amazon Web Services, the Augusta Webster Office of Medical Education at Northwestern University Feinberg School of Medicine, Feinberg's Center for Health Information Partnerships, Northwestern's School of Professional Studies (SPS) Master of Science in Health Analytics program, SPS's Master of Science in Data Science program, Feinberg's Office of Diversity & Inclusion, and analytics and software company SAS.
"Our goal was to welcome individuals to an event that reduced the barriers to biomedical data research. We did this by hosting sessions that spanned the experience spectrum while creating a forum where failure was not only acceptable, but a celebrated part of the learning process," said Nicholas Soulakis, PhD, assistant professor of Preventive Medicine in the Division of Health and Biomedical Informatics and a member of the NUCATS Institute's Center for Data Science and Informatics. "We're happy to hear that many attendees pushed themselves beyond their comfort zones to apply data and science in new ways."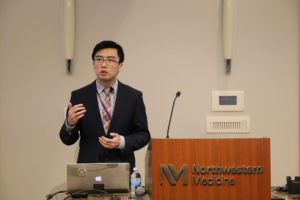 Nearly 300 people attended the sold-out event, taking the opportunity to work hands-on with open-source datasets, enhance their statistical knowledge or learn new tools to navigate the computational biomedical sciences. Event sessions were led by experienced faculty, staff, students and trainees from Northwestern and beyond. Charlton McIlwain, PhD, professor of Media, Culture, and Communication and vice provost for Faculty Engagement and Development at New York University, closed the event with an afternoon plenary that explored the question: What would it take to develop data science that is motivated by equity and justice?
McIlwain's latest book, "Black Software," illustrates how the history of racial justice organizing online — including the Black Lives Matter movement — is much longer and varied than most people know. In fact, it spans nearly five decades and involves a diverse group of engineers, entrepreneurs, hobbyists, journalists, and activists.
"I think it's critical for all of us in the big data/AI/data science community to view our work in a larger context. What we do is important because it has power — the power to help and the power to harm," said Justin Starren, MD, PhD, chief of Health and Biomedical Informatics in the Department of Preventive Medicine and deputy director of NUCATS. "The combination of Nigam's and Charlton's talks really captured that range."
Bookended by plenary sessions, other BDSD sessions explored topics that included artificial intelligence in biomedical imaging and electronic health records (EHRs), data science in EHRs, an introduction to R and Python, biostatistics, data science in bioinformatics, data visualization, reproducible data science and an introduction to AWS.
"The range of sessions and speakers showed that there is both a lot of great data science work being done at the university and a lot for those new to the field to learn," said Christina Maimone, PhD, research data services lead with Northwestern IT Research Computing, who presented "First Steps With R." "Getting started with a new programming language can be overwhelming and I thought that the introductory interactive sessions provided opportunities for attendees to take the first steps with a new language. The intermediate and advanced sessions then allowed beginners to see what they'll be able to do as their skills progress."
Another highly attended BDSD session was co-led by Abel Kho, MD, associate Professor of Medicine in the Division of General Internal Medicine and Geriatrics, director of the Institute for Public Health and Medicine's Center for Health Information Partnerships and a member of NUCAS, and Theresa Walunas, PhD, assistant professor of Medicine in the Division of General Internal Medicine and Geriatrics. Their talk, "The Good, the Bad and the Ugly: A Primer on the Wild West of Electronic Health Record Data," encouraged attendees to maintain a healthy skepticism of EHRs while revealing the potential of medical records for clinical and research use when framed in the right context.
"There is so much data coming at us right now: from EHRs and high throughput omics, to data from wearables and many other sources," Walunas said. "The future is dependent on developing people who understand the data and who can form multidisciplinary teams to figure out how to use it effectively for the common good. I think programs like BDSD represent ways to get people together, encourage peer-to-peer sharing and foster the interchange of ideas that will set the stage for that future."